Automobile Timeline
History Of The Automobile
The automobile timeline is constantly evolving and the page is as much yours as it is ours, and we would truly appreciate any additions and/or corrections you might like to contribute. So please feel free to contact us with any additions, corrections or comments you might like to add to our automobile timeline history!
There doesn't really appear to be a clear cut decision about who invented the first motor car and instead, it appears that similar ideas occurred to a variety of engineers around the same time and they all came up with pretty much similar products.
So let's take a look at the auto industry timeline and see what we discover along the way. I'll try to keep it as short as possible for you.
1908
"General Motors, latterly known as GM, was formed in the USA when William C. (Billy) Durant brought Olds Motor Company and Buick together to form General Motors Company. A year later, Cadillac and Oakland (which became Pontiac in 1932) marques joined General Motors." --GM.
Henry Ford introduced the Ford Model-T on the first ever motor production line.
Harry Dutton and Murray Aunger drove from Adelaide to Darwin in Australia in a 25hp Talbot.
---
1909
Ettorre Bugatti built his first car in Molsheim France.
---
1911
The Four Wheel Drive Auto Company built it's first ever 4x4 vehicle. Right from the start, they understood the concepts of a good four wheel drive vehicle and gave it excellent angles of arrival and departure.
---
1913
Jeffery Quad 4x4 pick up truck went into production.
Bamford and Martin Ltd, which later evolved into the famous sports car manufacturer, Aston Martin was founded.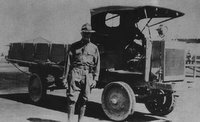 ---
1914
The Maserati Brothers from Bologna, Italy founded The Society Anonima Officine Alfieri Maserati
---
1915
The first Australian road train known as the Big Lizzie was created.
---
1917
First Oshkosh four wheel drive truck.
---
1919
W O Bentley opened his first design office in London. Within 2 years, his first cars were competing in early races and 2 years after that, his car had won the Le Mans 24 hour race.
---
1921
DKW was founded in Jorgen Skafte Rasmuessen in Saxony Germany. First vehicles were motor scooters and cars came along later.
---
1922
Citroen half-tracks crossed the Sahara, leaving from Touggourt in Algeria. Similar vehicle designs were later adopted by the German Afrika Corps during WWII.
The Austin Motor Company introduced the Baby Austin 7.
Swallow Sidecar Company, later (1945) to evolve into the famous Jaguar Motor Company.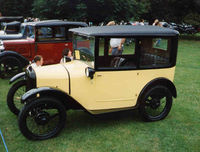 ---
1924
Briton, Ernest Eldridge, drove the Fiat special Mephistopheles fitted with a 21.7-litre Fiat airship engine and set a land speed record of 234.98km/h (146.01mph).
Morris Garages, later to become known as MG, introduced their first sports car using a modified Morris Oxford chassis. The company phone number was Abingdon 251, which became the basis for the early MG chassis or VIN numbers.
First trans Africa expedition using Citroen half-tracks began.
---
1925
Chrysler Motor Corporation founded.
---
1927
The last Ford Model-T rolled off the production line. Between 1908 and 1927, 15 million Model Ts had been made.
Francis Birtles drives a Bean motor car from England UK to Melbourne Australia taking 10 months to complete the journey.
---
1929
The Associated Equipment Company (AEC) started to build AWD trucks in conjunction with FWD (UK).
Henry Segrave raised the World Land Speed Record to 231.36 mph (327.34 kph) in the Golden Arrow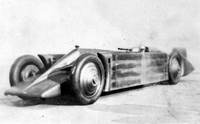 ---
1931
Bentley Motor Company taken over by Rolls Royce. It should be noted that Rolls Royce continued to allow the Bentley name and designs to be marketed as a separate entity.
The Citroen-Haardt expedition, using Citroen vehicles, followed part of Marco-Polo's route from Beirut to Beijing.
---
1932
Audi became part of Auto-Union, along with DKW, Horch and Wanderer.
Miller 4x4 racing cars at Indianapolis was created.
Aston Martin launch their Le Mans model.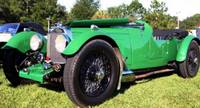 ---
1934
AEC road train (one of three built) was shipped from the UK to Australia. The vehicle consisted of an 8×8 prime-mover and two 8-wheel self-tracking trailers.
Dodge began building 4WD trucks designed by George Miles.
Prototype PX-33 four wheel drive car built for the Japanese government by Mitsubishi; the car never made it into production.
---
1935
The World Land Speed Record was raised to 301.129mph (484.620km/h) by Malcolm Campbell in Bluebird.
George Brough of Brough Superior motorcycle fame made the first of 85 cars. Two models reached production and those made between 1935 - 1936 used 4 litre, straight 8 sidevalve Hudson engines that produced 114 bhp or 85 kW, with a top speed of 90 mph and 0-60 in 10 seconds.
---
1937
Svenska Aeroplan Aktiebolaget, later to become known as Saab, aircraft factory was founded.
'Gesellschaft zur Vorbereitung des deutschen Volkswagens mbH', company was registered and their first task, set by Adolf Hitler was to develop a 'German People's Car. They promptly developed what was to become one of the most popular small cars of all time, the Volkswagen Beetle. They also developed to the VW Kubelwagen, during the same period and later the VW Karman Ghia designed by Porche and the ubiquitous VW van and camper van, so loved by the hippies of the 1960s etc.
---
1938
Gorkovsky Avtomobilny Zavod, aka GAZ introduced their 4x4 GAZ 61 model
Brough Superior (cars) produce their final car. Dubbed the XII, it was fitted with a Lincoln Zephyr V12 engine of 4387 cc.
---
1940
The US military issued the specification for what was to become known as the Jeep. Between 1940 and 1941: Bantam motor company built 2700 light 4x4s, early "Jeeps".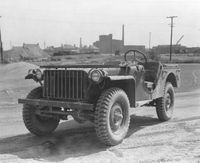 ---
1941
(until 1945) Ford and Willys-Overland built 700,000 General Purpose vehicles aka Jeeps, for WWII.
---
1946
The first Unimog all-wheel drive vehicles were introduced.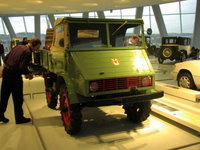 ---
1948
Land-Rover their first Series 1 4x4 models with inboard headlamps and removable doors.
First Porsche car introduced with 1086cc 30kW Volkswagen, air cooled, horizontally opposed four cylinder engine.
Jaguar Motor Company launched it's XK120 model.
Australian car manufacturer launched it's Holden FX 48-215.
Aston Martin Launch the 2 Litre Sports aka the DB1.
Ford introduce the 1st of their long running and ultra successful F-Series vehicles.
---
1950
The Ford GPA, or amphibious Jeep, the design of which was based on the DUKW or DUK was "driven" across the Atlantic ocean by Ben and Elinore Carlin.
Hippy favourite, the VW Transporter arrives on the scene.
First Jensen Interceptor.
Aston Martin introduce the DB2.
---
1951
First Toyota BJ 4x4, later (1954) to become known as the Landcruiser was introduced.
---
1952
The famous gull-winged sports car, Mercedes Benz 300SL introduced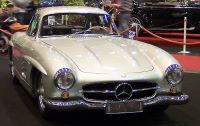 ---
1953
Oil additive company Redex, sponsor the first Redex Reliability Trial. Competitors had two weeks to cover 11,000km around Australia. Winners were Ken Tubman and John Marshall in a Peugeot 203. Redex oil additives are still available today.
Aston Martin introduce the DB2/4.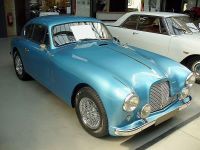 ---
1954
(until 1956) The amphibious Jeep La Tortuga drove or more accurately, cruised from Alaska to Tierra del Fuego
---
1955
(until 1956) 2 Land Rover 4x4 vehicles complete the 'Oxford & Cambridge Far Eastern Expedition' from London to Singapore and back.
Suzuki introduce their first car. A lightweight 360cc, 2-stroke engined front wheel drive named the Suzulight.
Australian Bill Buckle begins production of the unusual Goggomobil with a twin cylinder, air cooled engine.
The first motorway (M6) in the UK opens. An 8 mile section of the Preston by Pass -- the UK's first stretch of motorway. The M1 opened a few years later, in November 1959.
---
1957
Aston Martin DB Mk III arrives on the scene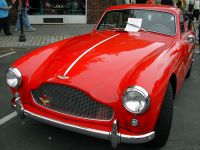 ---
1958
Toyota begin importing their famous LandCruiser series into Australia. These trucks are now the most popular trucks in Australia.
Aston Martin launch their DB4.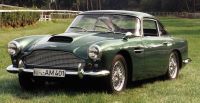 ---
1959
BMC introduce the Issigonis designed Mini. Soon after, they added to the range with the Mini Cooper and Mini Cooper S.
Steyr-Daimler-Puch introduce the Haflinger, a small lightweight, four seater, 4x4 with a 643cc, twin cylinder air-cooled engine.
---
1960
A Jeep and a Land-Rover traversed the Darien Gap.
Ford Falcon XK introduced.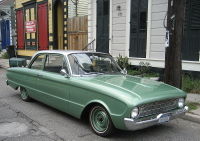 ---
1961
Lagonda launch the Rapide model.
Jaguar launch their show stopping and ridiculously underpriced E-type models at the Geneva Motor Show.
Aston Martin introduce their DB4 GT Zagato.
Stirling Moss won the Oulton Park Gold Cup race in a four wheel drive Ferguson P99.
---
1963
Aston Martin unveil their sensational DB5
Jeep introduce their first Wagoneer model often known as the 'Woody'. This luxury 4x4 beat the Range Rover onto the market by a full seven years and came with automatic transmission, quadratrac 4x4 and factory options of air conditioning and cruise control. It also had better build quality, better fuel consumption and more luxury than the Range Rover of the same period. It should be noted that this vehicle was made for approximately 28 years (till 1991) with only minor changes throughout the production run.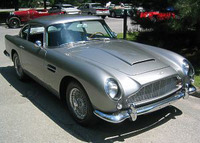 ---
1964
Donald Campbell breaks the World Land Speed Record in the Bluebird at Australia's Lake Eyre. He set the standard at 403mph.
Porsche introduce their first 911 model.
Introduction of the Mini Moke. These vehicles were designed at the behest of the British army, who were searching for a new air droppable vehicle but the lack of four wheel drive caused the moke not to be accepted. Instead, it went on to become a cult vehicle of the period.
---
1965
Audi Motor Corporation taken over by Volkswagen.
Aston Martin introduce the DB6.
World Land Speed Record shattered by Craig Breedlove in the jet car Spirit of America with a speed of 600.601mph (966.574km/h)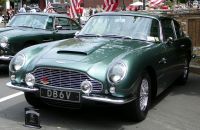 ---
1966
The Jensen FF road car with Formula Ferguson four wheel drive and Dunlop anti-lock brakes arrives.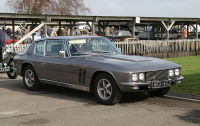 ---
1967
Aston Martin DBS arrives on the market.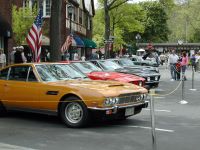 ---
1969
Ferrari suffer the ignominity of being taken over by the Fiat group.
Aston Martin unveil their V8 model.
---
1970
The first Range Rover arrives on the market. This luxury full-time 4x4 quickly became an immense hit, despite notoriously poor fuel consumption and less than perfect build quality.
---
1971
The first lunar vehicle arrived on the moon....and is still there. At least they don't have to worry about parking tickets and being towed away!
Australia gets it's first Ford Falcon four wheel drive pick up truck. Known as a 'ute' (short for utility) in that neck of the woods.
British Trans-Americas Range Rover expedition takes place. They struggled but made it across the notoriously difficult Darien Gap section.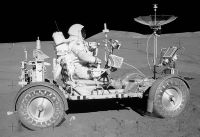 ---
1974
Subaru launch the Leone 4x4 car. This evolved over the years into their highly successful range of superbly built, luxury 4x4 vehicles.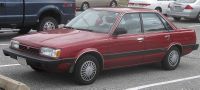 ---
1977
Aston Martin V8 Vantage arrives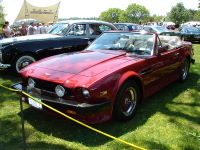 ---
1981
The US military issue specifications for the next generation of military all terrain vehicles. The official title was High Mobility Multipurpose Wheeled Vehicle aka HMMWV and the finished product became the unstoppable Humvee or Hummer.
Audi introduce the Quattro 4WD rally car which took the rallying world by storm.
Porsche unveil the Porsche 911 AWD concept car at the Frankfurt Motor Show.
De Lorean introduce the DMC12. Lotus of England eventually reworked the entire concept, which emerged as a $25,000 rear-engine two-seat coupe with gull wing doors, steel X-member backbone chassis à la Lotus, fully independent suspension, and fiberglass inner body with stainless-steel outer panels.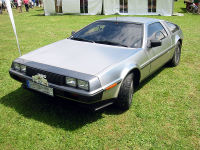 ---
1983
Land-Rover introduce their famous 110 model, coil-sprung, full-time 4x4. Their television advert of a 110 winching up the wall of a Welsh dam and the phrase, 'Land Rover, the best four by four by far' became as famous as the vehicle itself.
Richard Noble, sets the World Land Speed Record at 633.468 mph or 1019.47kph in the jet car Thrust2 in the Black Rock Desert.
Oldsmobile introduce the Cutlass, Hurst & 442.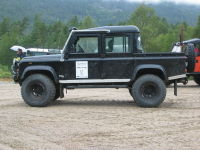 ---
1984
The Paris Dakar rally is won by a Porsche 911 AWD.
American new car sales leap to a record breaking 10.3 million vehicles.
Launch of the Ferrari 288 GTO. (Remember the song 'Little GTO' by Ronnie and the Daytonas)
---
1985
Chrysler introduce their Laser XT.
Audi launch the 5000CS Turbo Quattro.
Lamborghini introduce the Countach 5000 QV.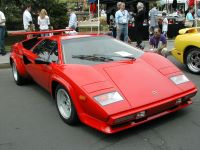 ---
1986
American new car sales leap to a record breaking 11.4 million vehicles.
The limited edition Shelby GLH-S appears on the market.
Aston Martin launch their V8 Zagato.
---
1987
BMW launch the M3, M5 & Z1 cars.
Jaguar launch the XJ6 model.
Launch of the Ferrari F40.
---
1988
The ultra luxurious BMW 750iL arrives on the market
---
1989
The 199 mph gull wing Jiotto Caspita is launched.
---
Automobile Timeline Related Topics