Jeep Wagoneer
The Wonderful Wagoneer
The Jeep Wagoneer, despite common belief, was the first ever luxury 4x4 to hit the world's automotive markets and it pre-dated the British Range Rover by no less than seven years. The Wagoneer was easily capable of carrying six adults and an immense amount of luggage in comfort and even today's largest luxury 4x4s battle to do that!
The Jeep Wagoneer was first launched in 1963 and although the very early models were slightly spartan in their specification, it wasn't long before the vehicle could be ordered direct from the factory with such features as automatic and selectable 4x4 transmission, power steering, air conditioning, electric tailgate and cruise control. A truly remarkable specification for the early to mid 1960s!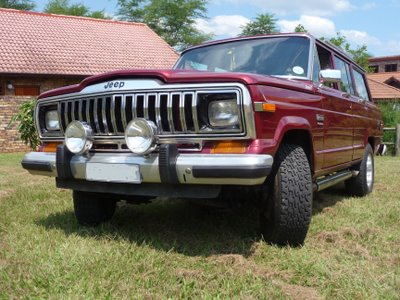 Wagoneer buyers had the choice of opting for a 3.6 litre straight six engine (later enlarged to 4.2 litre) or the well known 5.7 litre V8 AMC engine so loved by muscle car enthusiasts around the world. In the case of South Africa, the standard imported vehicle was right hand drive and came fitted with the 3.8 straight six engine. Jeep later upgraded this engine to 4.2 litres. As far as I'm aware, the 5.7 V8 model could only be brought into South Africa as a private import and these were almost always in left hand drive.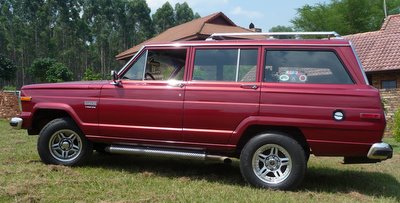 By 1966, Jeep had introduced the Super Wagoneer which was exactly the same chassis, body shell and engine but an even more luxurious specification. The Super Wagoneer came with leather covered electric seats, all electric windows and a high performance four barrel carburettor that boosted the AMCs output to 270 hp or 201 kW.
In the early 1970s, Jeep further upgraded the Wagoneer and super Wagoneer by adding the famed and almost bomb proof Quadra Trac 4x4 transmission system and wood panels to the exterior of the vehicle became almost compulsory. Anyone who remembers those days will also know that this wood panelled car was the inspiration for such well known songs as 'Surfin' Safari' and 'Surf City' by those icons of the 60s and 70s The Beach Boys and of course, Jan and Dean.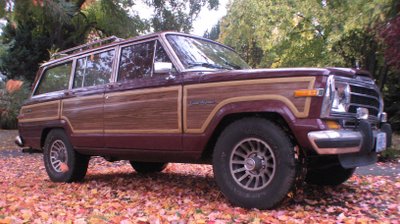 Jeep Wagoneer with Wood Trim
This same period also saw the introduction of a big bore version of the AMC engine that took it to a massive 6.6 litres. This introduction unfortunately coincided with the fuel crisis of the early seventies and the combined effect of rising fuel prices and falling fuel consumption had a detrimental effect on sales.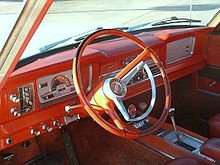 The Wagoneer went through a variety of changes, including some rather confusing name changes over the years but the same basic body shape and engines remained virtually unchanged from 1963 to 1991 and those 28 years of unbroken production meant this wonderful old classic even now holds the record for the longest production run of any American car in the entire history of automotive production.
By Steve Robinson | Published in the 'Lowvelder' Neswpaper | 8 Feb 2011