Welcome To Classic Vehicles
Are you a classic car or motorcycle fan?
If so, you've just found the most comprehensive classic car and motorcycle resource on the Internet. So please take time to explore this website and take care to mark us in your favourites so you can return to visit us regularly to check out our newest content.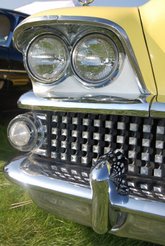 You will find some stunning classic car and motorcycle eye candy, timelines, articles on how to value, buy, sell or just appreciate a classic car or motorcycle.
Classic and antique vehicles have always been a great hedge against inflation and the recent worldwide recession has proven them to be an even more attractive long and short term investment for the future. Some classic cars and motorcycles are currently increasing in value by as much as 250% per annum and this at a time when more traditional investments such as shares and money markets are unstable. Check this article from The Times newspaper.
Classic Vehicles covers a variety of topics on old cars and bikes including...
Classic Vehicles Bookshelf
We specialise in locating hard-to-find classic and vintage vehicle books so you will also find a huge collection of car and motorcycle books, workshop manuals and DVDs here. This is a work in progress, so do please keep checking back.