Tour Africa
Tour Africa in a classic car or on a classic motorcycle....The dark continent has the most stunning vacation opportunities imaginable and as you'll see the freedom of the open African road is like no other.
Getting to South Africa from the USA, UK and Europe has never been easier with many of the world airlines flying to Johannesburg and/or Capetown on a regular, often daily basis. British Airways and South African Airways, for example, fly two Jumbo Jets each from London Heathrow to Johannesburg every day.
Itineraries to tour Atrica can be individually planned and all you have to do is contact us to discuss the activities you would like to do and the places you would like to visit. We will put together a sample itinerary for you. If you prefer a more 'Easy Rider' style of biking holiday, we can just arrange your bike hire for you and you can take off into the 'wild blue yonder' and make your own accommodation arrangements whenever you feel like stopping. The country has more than enough bed and breakfast guest houses and small hotels. You don't need to book everything in advance if you prefer to do things that way. Tours can be arranged to start in Johannesburg or Capetown and can either be confined to South Africa or extended into neighbouring countries such as Botswana and Namibia. On our guided motorcycle tours, we can also arrange to have a following support vehicle to accommodate extra baggage or weary pillion passengers.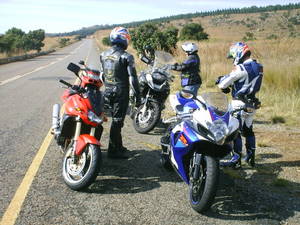 Wide open roads....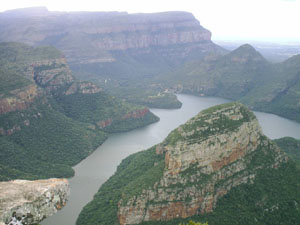 and stunning views
Hire bikes are your choice of BMWs or Harley Davidsons.
Fuel is also reasonably well priced at around UKP0.50 or USD1.00 per litre. Weather is made for biking and roads are simply fantastic. Main highways often have banked corners and once you get out of town the traffic volume is low.
National Parks, such as the famous Kruger National Park, are an essential part of your tour of Africa and we highly recommend you find at least a day or two for game-viewing. Although motorcycles are obviously not permitted into the parks, there is plenty of nearby accommodation and you can have a safari vehicle collect you and take you into the park. Alternatively, leave the bikes at the lodge for a few days whilst you spend a few days in the park. You can either have a safari vehicle and driver stay with you and guide you in the park or if you prefer, we will arrange a self-drive hire car for you.
Weather in South African can be split in two between the Cape area and the rest of the country. The Cape enjoys year long daytime temperatures of between 32 - 40 C. The coolest and wettest months are May to September.
The rest of South Africa has rain in the hottest months of the year which are October to February, when you can expect daytime temperatures of 25-38C. The winter months of March to September will bring you clear blue skies and daytime temperatures of 12 - 25 C. Evenings may get considerably cooler.
Health precautions may be needed depending on the region of South Africa. Some areas such as the Kruger Park are in malarial zones and we recommend you consult a reputable travel clinic prior to travel.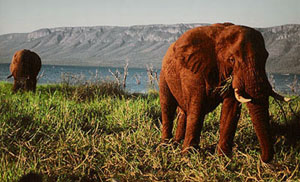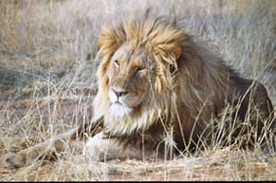 Sample Itinerary For A Guided Motorcycle Tour
Breaks for coffee, cigarettes and lunches etc will be taken at your choice and our suggestion!
Day 1: Arrive Johannesburg International Airport where you will be met by our representative and taken to a local guest house where you will spend you day relaxing and being briefed on what you can expect during your holiday. Meals provided.
Day 2: Leave Johannesburg after breakfast for a leisurely ride to the famous Lowveld area of South Africa. After a ride duration of about four or five hours, you'll arrive in the famous town of Dullstroom where you'll have lunch and then ride onto your nearby accommodation where you'll have the rest of the afternoon to explore the town at your leisure.
Day 3: Depart after breakfast and now you're really into the bikers paradise of the Lowveld. Empty roads, sweeping bends and fabulous scenery are all there for you to enjoy. You'll ride over the famous Long Tom Pass, through the charming rural town and bikers meeting place of Sabie and onto the town of White River, (the home of Classic Vehicles). It is only a twenty minute drive from White River to the Kruger National Park. Riding time is approximately five hours.
Day 4: Depart after breakfast and head to Mac Mac Falls, from there to the sleepy town of Graskop and God's Window, which is one of the area's most famous views. You'll pass through the bustling town of Hazyview and back to White River. Riding time is approximately five hours.
Day 5: You can kick back and do nothing or be taken on a guided tour of the Kruger National Park in an open sided safari truck. If you choose the latter option, you can expect to see a wide range of the antelopes and other plains game. You will see elephant, rhino, buffalo and, with a little luck, lion and leopard. Alternatively, at additional cost, you may take a light aircraft sightseeing tour of the Lowveld areas that you've previously enjoyed from ground level. The night will be spent at the same venue as the previous night.
Day 6: Depart after breakfast and enjoy the wonderful roads and mountains, passing through the old gold-mining town of Pilgrims Rest and enjoy the spectacular views of the Blyde River Canyon. Riding time is approximately four to five hours.
Day 7: Depart after breakfast and head off for more of those same incredible roads and scratchy bends. Ride for around four hours before stopping for the afternoon and night at a wonderful guest house in the mountains.
Day 8: Depart after breakfast for your last chance to enjoy the breathtaking views and empty roads of the Lowveld. You'll ride for something like five to six hours and the end of your ride will see you back in Johannesburg International Airport.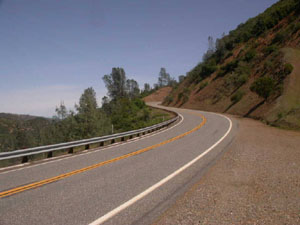 Roads of the Lowveld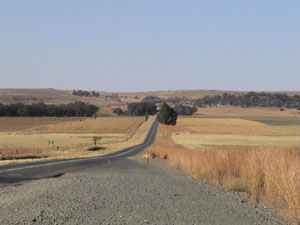 Sample Itinerary For A Self-Drive Tour of Africa
21 Night Self- drive Tour of South Africa
Based on 2 persons sharing.
Group G Hertz Car - Honda CRV or similar
Cost - approx US$ 4285 per person
Prices based on medium - high season rates
2 nights - luxury safari lodge in Timbavati Reserve. Full board including all game-viewing activities
3 Nights - luxury hotel bordering KNP (D/B/B)
4 nights - in Swaziland Game Reserve. Full Board ( 2 nights Mkhaya and 2 nights Reilly's Rock)
3 nights - luxury safari lodge Northern Kwazulu Natal. Full Board including all game-viewing activities
Flight - Durban to George
3 nights - 5 star guest house in Knysna (B/B)
1 night - 4 star guest house in Oudtshoorn (D/B/B)
2 nights - Zevenwacht Wine Estate just outside Cape Town ( B/B)
3 nights - luxury guest house in Cape Town (B/B)