Early Motorcycle Clothing
With special thanks to those early aviators to whom we all owe so much
My own motorcycling days started in the 1960s but let's start by looking back to the early motorcycle clothing at the advent of classic motorcycles which was about 1900 and let's also start from the top and work our way down.
Motorcycle HEADGEAR
The early bikers, as we all know, didn't wear any head protection at all, except perhaps for the ubiquitous flat cap, so beloved by the Brits even now. However, it took less than a decade for the early aviator leather and/or canvas skullcaps to come into vogue and both flat cap and pilot's skull cap were very often worn with pilot's goggles.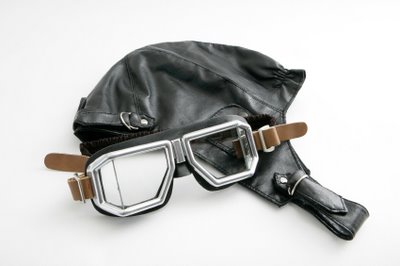 Early Leather Motorcycle Helmet With Goggles
In May 1935, T E Lawrence, better known as Lawrence of Arabia, crashed his Brough Superior SS100 and because he wasn't wearing any head protection, suffered severe brain damage and he lay in a coma for six days before he died.
During that time, Lawrence was attended by Australian neurosurgeon Hugh Cairns, later to become Sir Hugh Cairns. Cairns was extremely distressed to see such needless and severe brain damage and after Lawrence's death, began a long term study into the unnecessary waste of life caused by such accidents. This research resulted in the evolution of early crash helmet design and ultimately saved the lives of many bikers.
By the time WWII broke out in 1939, the half helmet or pudding basin crash helmet was widely available. These continued to be popular for many years. Notably with the Isle of Man racers and the rockers of the 1960s and are still popular to this day (especially) with bikers who like to ride the cruiser models such as Harley Davidson. Again, these helmets were often worn with flying goggles.
By the early 1950s, the open face helmet had been introduced. It offered considerably more protection to the back of the neck and cheeks than the half helmet. This new design also allowed for transparent visors of a variety of designs to be worn as an alternative to flying goggles.
By the late 1960s the full face helmet with additional chin protection had been introduced, initially by Bell Helmets of the USA and by the early 1970s were taking the lion's share of the market and this is still the case to the present day.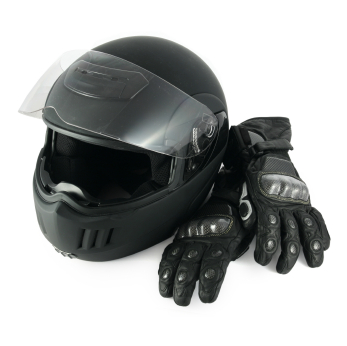 Full-Face Motorcycle Helmet Gloves
Motorcycle SCARVES
Again, the early aviators, especially those from WWI came to the rescue right from the start with this item. The early pilots used to wear a silk scarf, often across their face and always around their neck to prevent chafing caused by the incessant head turning that was so important when flying at that time. A sensible motorcyclist will, of course, adopt the same habit. The good old silk scarf must be one of the most enduring items of all the various types of biker wear.
Silk Aviator Scarves From Amazon
(Place cursor on image for details)
MOTORCYCLE JACKETS
The first motorcyclists initially made do with their everyday clothes which were often nothing more than wool or tweed suits and these of course gave very little protection against either the weather or accidents. Although this habit continued well into the 1930s at least, there was a gradual change over to more practical clothing.
One good example of ordinary clothing being used in the 1930s would be Douglas Bader (of 'Reach For The Skies' fame) who crashed his Douglas Dragonfly on his way to begin his initial Royal Flying Corps training and arrived on his first parade wearing a badly torn tweed jacket and a bowler hat with the top ripped out of it from being damaged when he had the hat over the bike's headlamp.
The first specialist clothing to be adapted for motorcycle use was often ex military and/or often ex aviator clothing. Leather flying helmets and pilot's goggles soon became popular as did the leather (usually cow or horse hide) and sheepskin jackets that were so very practical in those early days of open cockpits.
The first truly made-for-purpose motorcycle jackets came from companies such as Schott who opened in 1913 and the Buegeleisen Co in the USA and Lewis Leathers who were formed in the UK in the 1890s. These however, were fairly rare in the early days of motorcycling.
Many of the early motorcycle jackets were a variant of the Army Air Corps A1 flying jacket and that design was so popular and practical, many still are of similar design.
Enduring features of these jackets are a dropped/scalloped panel at the back to protect the kidneys, double breast to prevent wind and rain getting through the zips (and in the very early days, buttons), breast hand-warmer pockets.
Leather Jacket Motor Cycle Rider
Classic Biker Jackets For Men From Amazon
(Place cursor on image for details)
Classic Biker Jackets For Women From Amazon
(Place cursor on image for details)
Motorcycle BODY ARMOUR
The next generation of protective motorcycle clothing really kicked off in the 1970s and largely as a result of Barry Sheene's dreadful 170 mph bike crash during practice at Daytona. This accident caused immense injuries to Sheene, especially to his legs and it's said that he started designing his own version of a spine protector and other body armour such as knee pads from his hospital bed. By the time he was ready to ride again, he'd completed the design and the finished products was ready for him to wear on that first ride. Since then body armour in motorcycling clothing have become very much standard items.
Draggin Jeans | Product Test!!
Kevlar Motorcycle Jeans & Jackets From Amazon
(Place cursor on image for details)
GENERAL
Right from the start of motorcycling, ex-military clothing was used by riders and it continued to play a large part in protective motorcycle clothing well into 1970s. I well remember buying a one piece, rubberised 'tank suit' for wet weather wear. This suit was a tad bulky but 110% waterproof and incredibly warm on those long, cold rides in English winters on my much loved BSA Rocket Gold Star 650.