Indian Motorcycle Books
Classic Vehicle Bookshelf >> Classic Motorcycle Books >> Classic American Bike Books >> Indian Motorcycle Books
Here are the classic Indian motorcycle books, journals and manuals covering the Indian bike history, restoration, advertising and the great battle with Harley-Davidson.

The Indian Motocycle Manufacturing Company is a motorcycle manufacturer in Kings Mountain, North Carolina. Indian is America's oldest motorcycle brand and was once the largest manufacturer of motorcycles in the world.
JOHN CARRROLL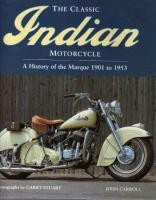 The Classic Indian Motorcycle: A History Of The Marque 1901 To 1953 by John Carroll (1996) is the history of one of the most famous marques in the history of motorcycling who forged a reputation for high quality, innovative engineering and for race-winning success.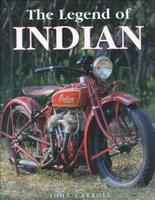 The Legend Of Indian by John Carroll (2001) explores the history of the Indian brand from its early origins to the late models and includes a chapter on the British-built Indians of the 1950's.
ALLAN GIRDLER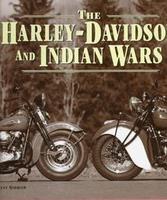 The Harley-Davidson And Indian Wars by Allan Girdler (1997). The exciting colour history of the battle between Harley-Davidson and Indian for control of the American motorcycle market. All new colour photographs of restored motorcycles, archival photography prior to World War II, advertisements, race posters, and memorabilia. Harley-Davidson and Indian mirrored each other's designs, with one and then the other, introducing new technology and forcing the other back to the drawing board. Harley-Davidson eventually prevailed when Indian went out of business in 1954, yet the rivalry is still evident today.
FRED HAEFELE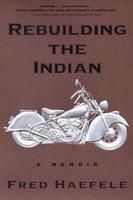 Rebuilding The Indian: A Memoir by Fred Haefele (1999). Constructing a vintage Indian motorcycle from a box of parts is more than the restoration of a bike for Haefele - it's the resurrection of a dream. 'Rebuilding The Indian' chronicles one man's journey through the fearful expanse of midlife in a quest for peace, parts, and a happy second fatherhood.
JERRY HATFIELD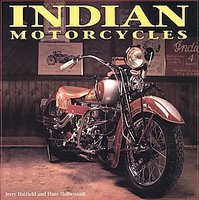 Indian Motorcycles by Jerry Hatfield (2007). What began as a motorized bicycle dreamed up between a young machinist named George Hedstrom and a champion cyclist named George Hendee, became one of the most popular motorcycles in the world: the Indian. Out of production for half a century it retains the loyalty and admiration of motorcycle riders and enthusiasts everywhere. This book recounts the story from its earliest single-cylinder motocycles of 1901 through to 1953 when the company closed.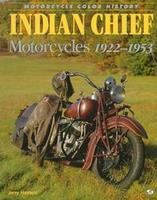 Indian Chief Motorcycles 1922-1953 by Jerry Hatfield (1997) is the colourful history of the Indian Chief, one of today's most collectible and coveted vintage motorcycles. Hatfield's fascinating account of this legendary motorcycle is accompanied by previously unpublished historical photographs and new colour photography. Model evolution, technical data, behind-the-scenes factory information, and racing history are all covered.
Indian Motorcycle: Restoration Guide 1932-53 by Jerry Hatfield (1995)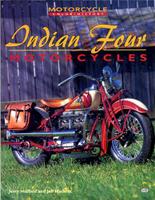 Indian Four Motorcycles by Jerry Hatfield (1998). Written With Jerry Hackett. As Indian''s premier model and one of the most desirable bikes among today''s collectors, the Four represents the manufacturer's departure from the marketplace in 1942. This colour history looks at restored Fours and chronicles it's design and production.
Illustrated Indian Motorcycle Buyer's Guide: All Iron Redskins from 1901 by Jerry Hatfield (1989)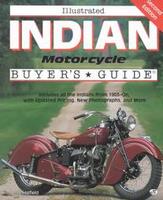 Illustrated Indian Motorcycle Buyer's Guide: Includes All The Indians From 1903 by Jerry Hatfield (1995). Updated prices and new photographs.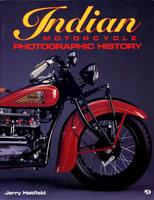 Indian Motorcycle Photographic History by Jerry Hatfield (1993) tells the tale of the great Indian motorcycles in over 450 colour and black-and-white photos. Here is the Indian legend, from the first bicycle-derived "motocycles" of 1901 to the famous Chiefs, Scouts and Fours and on to the firm's closing in the 1960s.
BUZZ KANTER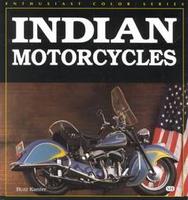 Indian Motorcycles by Buzz Kanter (1993). The all-American motorcycle featured in 80 fabulous, full-colour shots. Perfectly restored bikes and a few original classics, tell Indian's history in sensational style. Includes bikes of every decade with a text that relates their most fascinating details.
JIM LENSVELD
Indian Motorcycles by Jim Lensveld (1997). This oversize first edition presents the history of Indian motorcycles from the 1908 two cylinder V-twin to the 1959 Bastard mostly in full colour photographs.
TOD RAFFERTY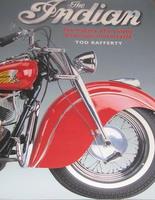 The Indian: The History Of A Classic American Motorcycle by Tod Rafferty (1998). There is magic in the name 'Indian' proclaimed the ads, and thousands of motorcycle enthusiasts around the world would agree. Early this century Indian was the pre-eminent American motorcycle as Harley-Davidson struggled to make inroads into the market. The machines themselves have an elegance and visual style that sets them apart, ensuring that they are among the most collectible. This book presents an unparalleled history of the company, with superb studio photography of all the significant models built from 1901 to the company's demise in 1953.
GARRY STUART & JOHN CARROLL
Indian by Garry Stuart and John Carroll (1994). This photographic history of the Indian motorcycle marque, which once rivalled Harley-Davidson in the US motorcycle market but which killed itself off attempting to steal a piece of the middleweight market from British manufacturers Norton and Triumph, describes the design and manufacture of a highly attractive breed of bikes, and takes a visual tour of successive models in use today.
HARRY SUCHER
The Iron Redskin: History Of The Indian Motorcycle by Harry Sucher (1977). The Indian has a cult following similar to the Harley, an out and out showman's bike with muscle to match. These American machines have a history going back to the turn of the Old Century and have always been competitive in all forms of motor cycle sport.
ED YOUNGBLOOD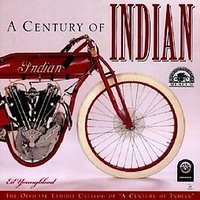 A Century Of Indian by Ed Youngblood (2001) was produced as a companion to the American Motorcyclist Museum Indian motorcycle exhibit, in July 2001, this beautiful visual narrative showcases the elegant design and quality workmanship for which Indian became famous. Both production and race models are featured, as are photo collages of Indian memorabilia and evocative archival images.
Indian Motorcycle BROCHURES
Indian News c.1930s. Pamphlet with original pictorial wrappers in red featuring a motorcycle and airplane. Illustrated with 3 colour plates (Indian Scout - Series 101, Indian 4 - Series 402; Indian Chief 74 - Series 302) and 10 smaller b/w photographs. A very good copy of this scarce brochure.
Indian Dispatch-Tow, A New Profit Opportunity 1931.An advertising pamphlet for the Indian 3-wheeled Dispatch-Tow. A fine copy of this ephemera.
Indian, Pride Of The Force c.1930. An advertising pamphlet for Indian's 'Police Special' Motorcycles, two new Indian police motorcycles with outstanding features (Indian 4 & Indian Chief 74). Also a description and illustration of the armoured car, police dispatch car and police sidecar. Dramatic colour illustration on cover of a military or police man head on, driving the Indian model being advertised. Illustration of the Indian factory on back cover.
Motorcycle Catalog K From Indian Motorcycle Sales, Kansas City, MO 1904-1935.
Fourth Annual Catalogue, 1913: Indian And Excelsior Motorcycles, Bicycles c.1980 Reprint of the 1913 edition.
Honest Injun: Indian Motorcycles 2008 Reprint. Special 1916 catalogue Australasian edition. Introducing "Powerplus" greatest of all Indians and the factory and men behind it.
Indian Motorcycle JOURNALS/Magazines
Indian Four Motorcycle News. Indian Four Motorcycle Club of America. Various issues from 1966, 1967, 1968, 1969 and 1970.
National Sportsman November 1919 Great Indian Motorcycle advert
Indian Motorcycle MANUALS
Parts And Price List, Indian Motorcycle, Model 741-B 1942
Rider's Instruction Book For All Models (Except Vertical Models) 1951
Indian Motorcycle Videos
1915 V twin 1000cc Indian Road Test
<
Vintage Indian Motorcycle Collection
Indian Motorcycle DVDs And Memorabilia
(Place cursor on image for details)
Classic American Motorcycle Books By Manufacturer
Classic Motorcycle Books By Country