Yamaha Motorcycle Books
Classic Vehicle Bookshelf >> Classic Motorcycle Books >> Classic Japanese Bike Books >> Yamaha Motorcycle Books
Yamaha motorcycle books include Yamaha history and racing heritage, plus dozens of manuals.
Yamaha Motor Company is the world's second largest producer of motorcycles, which were maufactured from 1955.
ROY BACON
Illustrated Motorcycle Legends: Yamaha by Roy Bacon (1996)
The Illustrated History Of Yamaha Motorcycles by Roy Bacon (1996) is the Yamaha story, told in words and pictures, with extensive use of colour to enhance the tale. Clearly it shows the great progress made over 40 years in all facets of two-wheeled powered transport.
R M CLARKE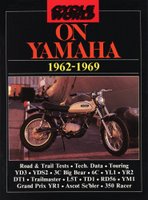 Cycle World On Yamaha 1962-1969 by R M Clarke (1988)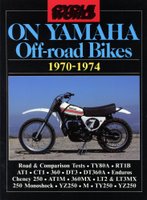 Cycle World On Yamaha Off-Road Bikes 1970-1974 by R M Clarke (1980)
TED MACAULEY
The Yamaha Legend by Ted Macauley (1979) is a fascinating portrait of a truly mammoth enterprise at work. It also captures the excitement of an unparalleled slice of racing history, which has as its centrepiece the great years of the Grand Prix effort.
COLIN MACKELLAR
Yamaha Racing Motorcycles: All Factory And Production Road-Racing Two-Strokes From 1955 To 1993 by Colin MacKellar (2008). The full story of the racing two-strokes, from the company's fateful decision to go into motorcycle racing in 1954, right up to the 1990s and the powerful machines being produced today. Contains interviews with key personalities and riders. Filled with both technical advances and racing successes.
Yamaha Dirtbikes: All Two And Four Stroke Enduro, Dual-Purpose And Motocross Machines by Colin MacKellar (1986) covers all off-road, motocross, enduro and dual-purpose motorcycles, both two and four stroke machines from 1968 onwards.
Yamaha Two-Stroke Twins: All Roadsters Plus Factory And Production (TA To TZ) Road Racers - 1956 Onwards by Colin MacKellar (1985)
MICK WALKER
Yamaha by Mick Walker (1993) describes and illustrates Yamaha's two- and four-stroke machines, including its sporting, touring, custom and racing models. It features racing coverage, model-by-model descriptions and technical specifications.
JOHN WATTS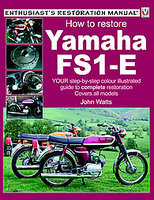 How To Restore Yamaha FS1-E: Your Step-By-Step Colour Illustrated Guide To Complete Restoration by John Watts (2006). The Yamaha FS1-E is a 1970s icon. Introduced in the early 70s, it became an instant success, giving sixteen year olds their first taste of motorcycle performance and freedom, and totally overshadowing the other mopeds available at that time. Many riders had their FS1-E for only one year before progressing to larger machines. Today, nostalgia for the youthful exuberance engendered by the 'Fizzie' has resulted in many ex-owners wanting to recreate their pride and joy. Most FS1E's have not endured the test of time well, and very few good original examples exist. There are plenty of restorable machines around and this book guides the do-it-yourself restorer through the minefield of initially finding a machine to restore and the pitfalls of a first restoration.
PHIL WEST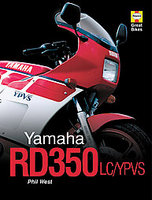 Yamaha RD350LC/YPVS by Phil West (2004). The RD350LC/YPVS family of water-cooled, race-derived two-stroke 'screamers' has become a motorcycling icon of the 1980s. It was the first mass-production bike to use monoshock rear suspension, and in racing it instantly became the production racer of choice. The LC marked the end of an era, as tightening emissions regulations ensured that it was the last of the middleweight performance two-strokes. This book describes the full developement, production and racing history of what soon became the dream bike for a generation of teenagers - nothing else came close.
MICK WOOLLETT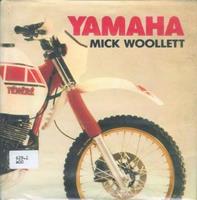 Yamaha by Mick Woollett (1984). History, Racing, Two-Strokes, four-strokes, sporting bikes and star riders.
Yamaha Motorcycle Manuals
Check for the manual you need from all these Yamaha Motorcycle Manuals
Yamaha Motorcycle Videos
Yamaha 50cc Motorcycle Road Test
1967 Yamaha YDS5E 250cc Motorcycle
1974 Yamaha RD 350 Motorcycle
Classic Japanese Motorcycle Books By Manufacturer
Classic Motorcycle Books By Country