American Bikes | For Sale
My interest in classic American bikes first developed with the release of that wonderful movie with the Harley Davidson chopper motorcycles 'Easy Rider' in (by the time it got to the UK) the early '70s and it inspired me to go off and build my first and only chopper motorcycle.
Harleys were in short supply at the time and I used a Honda CB750 - 4 K1 as my donor motorcycle - It was a great bike to ride, but I was never really comfortable with the feet forward riding position, so it wasn't long before I sold it for something new. The big attraction for me of the American bikes is that big old vee twin engine and nothing quite beats the sound of that. Although not particularly fast, the low seating position suits my little legs down to the ground and although I haven't owned an American motorbike for some years, I know I'm not done with them yet and sooner or later, I'll get to own another one If only for the mystique and that wonderfully unforgettable exhaust note.
Currently I have a yearning for a 1950s Indian Chief or Indian Scout, preferably in red, so if anyone has one for sale, either in an unrestored or restored condition, please let me know.
2004 Harley Davidson Big Dog Custom
1700cc
Hardly used and in near showroom condition with stunning paint.
Asking price US$25500 SOLD
---
2006 Harley Davidson Softail
In immaculate condition with just 1800kms on the clock since new.
A beautiful machine. Asking price US$20000 SOLD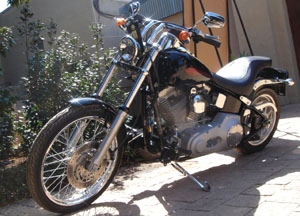 ---
1979 Harley Davidson Custom Lowrider FLH
Recently restored with lots of custom parts including forward controls, stretch tank & classic tank badges (not shown)
1340cc of classic American power and fatboy style.
Asking price US$9500 SOLD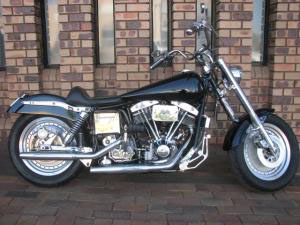 ---
2008 Harley Davidson Trike
1450cc
This machine is brand new and has a softail front end.
An unusual machine and especially well suited to long distance highway cruising.
Asking price US$37000 SOLD
---
1996 Harley Davidson Springer Custom
Take a close look at the design of this unique machine and you'll realise it puts a whole new meaning on the words 'going for a ride on the bike'!
One of a kind and simply stunning.
A wonderful example of American engineering artistry.
SOLD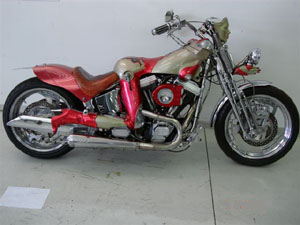 ---
1998 Boss Hoss
5.7 litres of V8 power.
Hand built from the land of the free and the home of the brave.
Another truly unique machine.
SOLD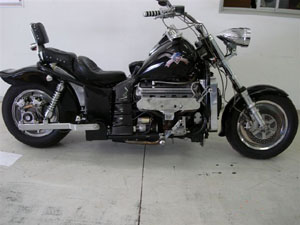 ---
1941 Indian 741B
500cc
7157 miles on the clock.
In Army trim and in very original condition with genuine rear carrier and (slightly rough) saddlebags.
Very unusual to find this machine in military trim and very collectable indeed.
Sensible offers invited please.
SOLD
More classic motorcycles for sale