British Bikes | For Sale
I cut my teeth on British bikes and I got my first one aged just twelve, (kept well hidden from my Mother!). The bike was a 700cc Royal Enfield Constellation. It was a real bike in a box job, having been stripped down to every last nut and bolt and needed a complete restoration. It took me a while to rebuild and restore because I couldn't afford a workshop manual, and pretty much as soon as it was finished, I managed to ride it straight through a neighbour's garage doors when the throttle stuck open during a test ride! Fortunately, the garage was empty and he was kind enough to let me make good the damage and not tell my dear old Mother.
My second British bike was an old BSA Bantam that I also restored. Unfortunately, no-one had told me that these engines could occasionally run backwards if you caught them right (or wrong!) on the kickstart and that one also went through my own garage door - this time backwards! I can't tell you how much that little motorcycle stunt took me by surprise.
Then I bought myself a 600cc Panther Sloper that also needed some reassembly and as part of that restoration, I made a point of fitting double throttle return springs, (hey, at least the garage doors were safe) and then I changed the Panther for probably my favourite motorcycle of all time, the BSA Rocket Gold Star. The RGS was hard going on the road because the RRT2 gearbox which was originally designed for the Isle of Man TT Races, meant you had to slip the clutch up to 30 mph but once the bike was rolling, you really knew why it had that 'rocket' designation. Of all the classic bikes I've owned over the years, that RGS is the one I regret selling the most.
This was all at a time when a teenager could insure a British bike of around 500cc for something like UKP20 a year but had to do everything by the slow process of post and cheque (or check for you Americans!). Now it's all done by Internet and considerably quicker than the old method.......... shame the prices aren't the same though!
Anyway, enough of my chat............ Enjoy the British bikes
1950 Vincent Comet
A wonderful restoration of this very desirable and collectable machine.
Frame # RC4066B
Engine # F5AB2A7274.
8617 recorded miles.
Asking price: US$22000 or near offer SOLD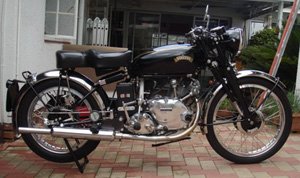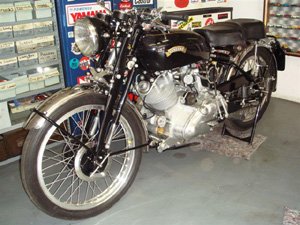 ---
1958 Ariel Square Four MkII
1000cc
Stunningly restored to concours condition.
A real showstopper of note.
This machine is extremely rare and highly collectable.
Asking price US$27500 or very near offer.
---
c.1960 Royal Enfield Super Meteor
700 cc
Fully restored to immaculate condition and taken one step beyond with additional work.
Asking price US$7500 or near offer.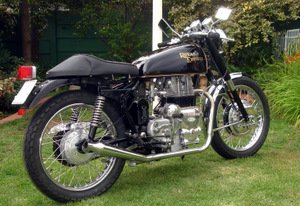 ---
1962 AJS G12 CSR Hurricane
650 cc.
This immaculately restored machine has the full ex-factory speed kit including the twin carb conversion and is completely ready to show or cruise.
Asking price US$7000 or near offer.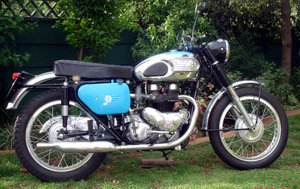 ---
1961 Triton
Triumph Bonneville engine combined with the famous Norton Featherbed frame.
This machine has had a mountain of top class, go faster engine and cycle parts fitted.
No expense has been spared in the preparation of this most famous cafe racer of all time.
Asking price US$22500 or near offer
---
1963 Triumph Bonneville T120
An early 4 speed, unit construction, UK edition of the 650 cc T120 Triumph Bonneville with original chronometric clocks and monobloc carbs.
Beautifully restored and a very collectable machine.
Asking price US$13000 or near offer.
---
1962 Norton Navigator 350cc Twin
This stunning machine has been restored and rebuilt from the ground up and is now reluctantly offered for sale
The mid size British twin cylinder machines are now becoming extremely collectable and this one is one of the best on the market.
Asking price US$5500
SOLD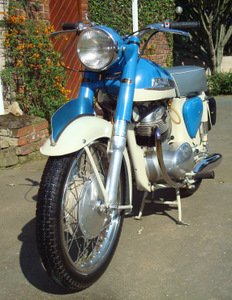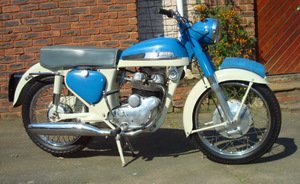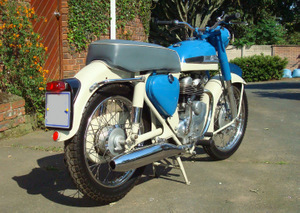 ---
1965 AJS Model 18
500cc
SAVVA (South African Veteran & Vintage Association) registered
In perfect running order.
The condition is almost, but not quite to concourse condition and there is some very minor cosmetic attention needed to get it to that level, but in general it is in very excellent condition.
This stunningly beautiful machine comes with a large batch of spares (mostly engine and gear box parts) and is probably the best machine of it's type anywhere on the African continent.
Asking price US$6500.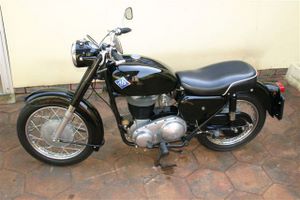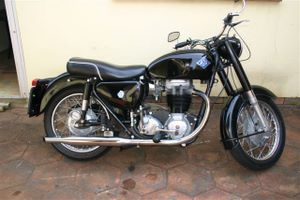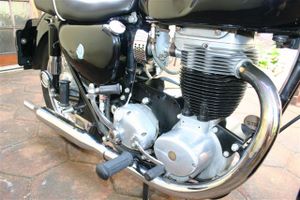 ---
1969 Triumph Bonneville (US Edition)
With matching numbers and beautifully restored in 2007 with an endless list of new parts.
Asking price US$10000 or near offer.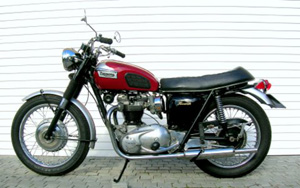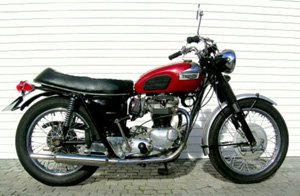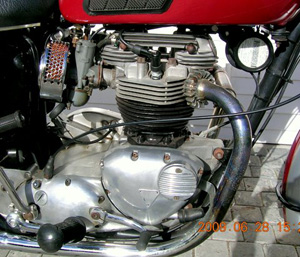 ---
1953 Royal Enfield 700 Constellation
In stunning condition.
The best we've ever seen of this fabulous old marque.
Asking price USD7000.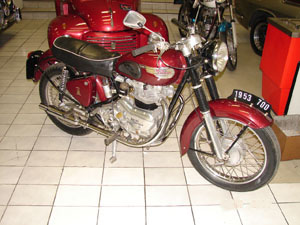 ---
1915 Triumph
This 550cc machine is a fine example of of early British engineering and has until very recently, been in the hands of one family since new.
In it's youth, it was used to ride from Rhodesia to Capetown.
Never been rebuilt and totally original.
Asking price US$18000 or near offer.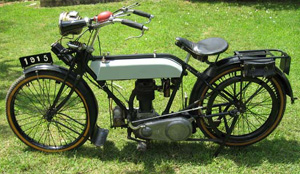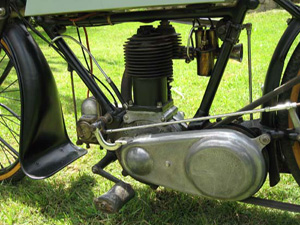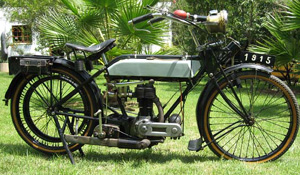 ---
1974 Triumph Bonneville T140V
750cc
This machine truly is as good as it looks.
40341kms on the clock and the best of it's marque we've ever seen.
A real show winner.
Serious offers invited please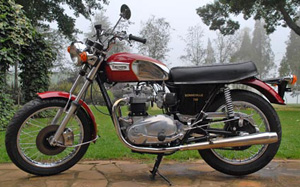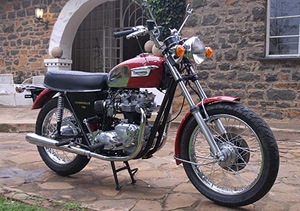 ---
1959 Royal Enfield Constellation
700cc twin.
This bike has been lovingly restored to near factory condition by the current owner who is now disposing of his entire collection of about 15 classic motorcycles.
Asking price USD5000 SOLD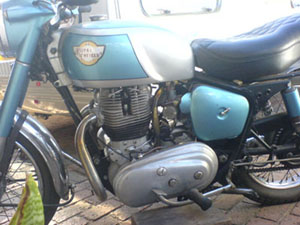 ---
1974 Norton Commando Interstate
850 cc
Excellent condition with new tyres, comprehensive service history with peashooter silencers imported from the UK.
Asking price US$8000 ono.
SOLD
---
1951 Vincent Black Shadow
Why waste words, the picture says it all.
Asking price UKP60000 SOLD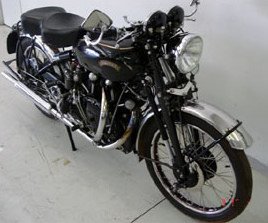 ---
1969 BSA Thunderbolt
Those were the days....an absolutely first class restoration.
Offers invited for this magnificent machine.
SOLD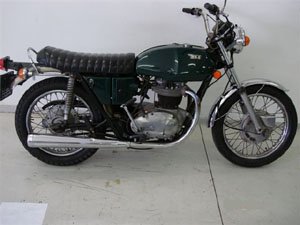 ---
1949 Sunbeam S8
A fine example of this rare marque.
Asking price US$7500 ono SOLD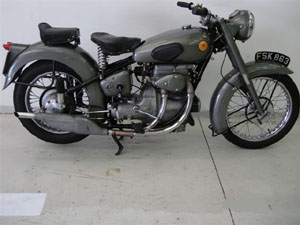 ---
1957 BSA Golden Flash
This machine is currently undergoing a complete nut and bolt restoration and will be sold in fully complete and restored condition.
Also registered with the South African Veteran and Vintage Association and a copy of their Dating Certificate is available on request.
Asking price US$5000 SOLD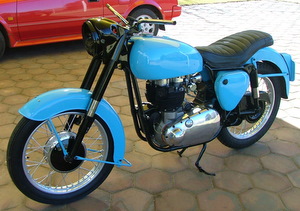 More classic motorcycles for sale