German Bikes | For Sale
I got into German bikes relatively late in my motorcycling career and only bought my first one, an ex-police K1000 in about 1990. The white fairing and touring panniers were a true revelation to this motorcycle commuter and I realized very quickly the pleasures a touring motorcycle. The first thing I did to it was to fit a tape player into the fairing glove box with a jack plug on the outside and a set of headphone speakers into my crash helmet. The comms wire and my yellow reflective motorcycle jacket really made me look like a cop and I found this very useful as I wove my way through the London traffic.
The motorcycle insurance on the machine was relatively cheap and as I maintained the machine myself, running costs were equally inexpensive. I used the bike for about 5 years for commuting and regular touring and it never let me down. The K1000 was eventually replaced with a new boxer engined RT1100 in the mid to late 90s and although the technology of the electric windscreen and heated handlebar grips were a wonderful advantage for cold weather touring, I found I preferred the old ex police K1000. One of my funniest memories of my BMW years was being stopped by the metropolitan police on the highway for changing the tape on the stereo at 120 mph......And then being let off because the cop liked the idea of the built in stereo in the fairing and stereo headphones in my crash helmet!
1982 BMW RT 1000
68000kms on the clock.
Spotless condition and complete with manufacturers luggage system.
US$6250 SOLD
---
1974 BMW R90/7E
Metallic green with just 47000 Kms on the clock since new.
Asking price US$4500 SOLD
---
1978 BMW R600/7 Classic
Black with only 27200 kms on the clock.
Petrol, 5 speed.
Just been serviced at Bavarian Motorcycles, new tyres, battery, side panniers, exhaust and shock covers.
A good runner. Asking price: USD4250SOLD
---
1982 BMW 100RS
With 37500 verifiable kilometres on the clock and full service history.
This silver grey machine has been lovingly cared for by its present owner for many years and comes with full fairing, original BMW Krauser panniers, owners manual, service history and original toolkit.
This machine has had weekend use only and is only available for sale because the present owner is suffering from ill health.
Asking price US$7000 ono SOLD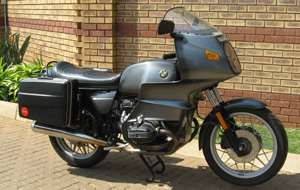 More classic motorcycles for sale