DKW Motorcycle Books
Classic Vehicle Bookshelf >> Classic Motorcycle Books >> Classic German Bike Books >> DKW Motorcycle Books
DKW motorcycle books includes the history of DKW (German text) plus a magazine article.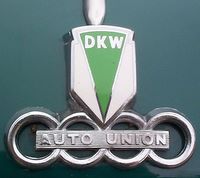 DKW is an historic car and motorcycle marque founded in 1916. A two-stroke toy engine was built in 1919 and a slightly modified version of this engine was put into a motorcycle and called Das Kleine Wunder - 'the little marvel'. This was the real beginning of the DKW brand: by the 1930s, DKW was the world's largest motorcycle manufacturer.
STEFAN KNITTEL
DKW Motorrader 1949-58 by Stefan Knittel (1993). German text.
DKW Motorcycle Magazine
The Classic MotorCycle (January 2000) includes an article on 1935 DKW (Das Kleine Wunder) SB500.
DKW Motorcycle Videos
DKW Normandy 350 Motorcycle
DKW RT250/2 Motorcycle
Classic German Motorcycle Books By Manufacturer
Classic Motorcycle Books By Country