Maico Motorcycle Books
Classic Vehicle Bookshelf >> Classic Motorcycle Books >> Classic German Bike Books >> Maico Motorcycle Books
Maico motorcycle books include the history of Maico and an owner's manual.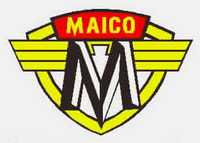 Maicowerk A.G. began in 1926, originally assembling 98cc and 123cc two stroke motors. After World War II the West German motorcycle manufacturer began producing its own unit construction two stroke engines, selling engines and complete motorcycles.
FRANK RONICKE
Maico by Frank Ronicke (2007) covers Maico motorcycles from 1934 to 1994. German text.
Maico Motorcycle Manual
Maico Competition Models 1973-75 Owner's Workshop Manual 1975
Maico Motorcycle Video
Classic German Motorcycle Books By Manufacturer
Classic Motorcycle Books By Country