Aprilia Motorcycle Books
Classic Vehicle Bookshelf >> Classic Motorcycle Books >> Classic Italian Bike Books >> Aprilia Motorcycle Books
Aprilia motorcycle books includes the complete history of Aprilia by Mick Walker, plus many manuals.
Aprilia is an Italian motorcycle company, founded in 1945, is one of the seven marques owned by Piaggio, the world's fourth largest motorcycle manufacturer.
MICK WALKER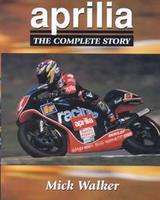 Aprilia, The Complete Story by Mick Walker (2000). Bestselling author Mick Walker delivers the complete story of Aprilia's rise to international prominence. Superbly illustrated with many rare colour and black and white photographs, Walker brings the colourful history of this powerful Italian marque vividly to life through comprehensive coverage of Aprilia's successful designs in road, racing, off-road, enduro and world superbikes. Complete with detailed specification tables.
Aprilia Motorcycle Manuals
Check for the Aprilia manual you need from Aprilia Manuals
Aprilia Motorcycle Video
c.1990s Aprilia Motorcycle
Classic Italian Motorcycle Books By Manufacturer
Classic Motorcycle Books By Country