Moto Rumi Motorcycle Books
Classic Vehicle Bookshelf >> Classic Motorcycle Books >> Classic Italian Bike Books >> Moto Rumi Motorcycle Books
Moto Rumi motorcycle books includes the complete history of Moto Rumi motorcycles.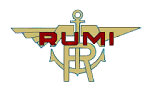 The Moto Rumi organisation was formed at the beginning of the twentieth century. In 1950, Rumi decided to get involved in the manufacture of lightweight motorcycles.
RICCARDO CRIPPA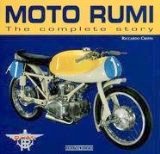 Moto Rumi: The Complete Story by Riccardo Crippa (2005). In the Fifties, many motorcycle manufacturers like Piaggio, MV Agusta, Morini and Rumi joined famous brands in the marketplace such as Motor Guzzi and Gilera. Rumi earned itself a prominent position among the newcomers. From the moment its earliest bikes first appeared, the Italian factory distinguished itself for the refinement and quality of its machines. Rumi climbed to the absolute summit in the 125cc category, with its Gobbetto, Scoiattolo and junior 125cc touring and sports models as well as in racing. Riccardo Crippa, who maintains the Rumi Historic Register, recounts the long and detailed story of the manufacturer with the help of over 300 pictures, technical drawings and a complete list of all the models.
Moto Rumi Motorcycle Video
Moto Rumi Motorcycle Club France
Classic Italian Motorcycle Books By Manufacturer
Classic Motorcycle Books By Country