MV Agusta Motorcycle Books
Classic Vehicle Bookshelf >> Classic Motorcycle Books >> Classic Italian Bike Books >> MV Agusta Motorcycle Books
MV Agusta motorcycle books covers the technical and racing history of the MV Agusta company.
MV Agusta is a motorcycle manufacturer founded in 1945 near Milan in Cascina Costa, Italy.
PETER CARRICK
The Story Of MV Agusta Motorcycles by Peter Carrick (1979)
R M CLARKE
MV Agusta F4 750 & 1000 1997-2007 Road Test Portfolio by R M Clarke (2009) traces the development of the MV Agusta F4 750cc and 1000cc superbike from 1997 to 2007. Models covered are the 750cc Oro, Strada, S, Evo and the Brutales, the 1000cc Tamborini, Mamba, Brutale S910 and 1080 together with the R and Biposto models.
JEFF CLEW
MV Agusta 750S America And Other 750/850 Fours: Super Profile by Jeff Clew (1983). The top-of-the-range road bikes produced by one of the world's most famous marques. Includes Development, Road Tests, Buyers Guide, Owner's Viewpoint etc.
MARIO COLOMBO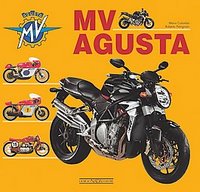 MV Agusta by Mario Colombo (2008) is divided into two parts: the first covers the technical and racing history of the company, analyzing the evolution of the manufacturer in its different historic periods. The second section comprises a systematic cataloging of all the models produced by MV Agusta, all of them accompanied by technical specification and a wealth of pictures provided by the manufacturer.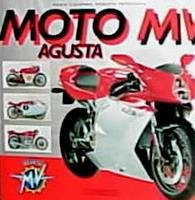 Moto MV Agusta: A History Of The Marque From The Birth To The Renaissance With A Complete Catalogue Of Both Production And Racing Models by Mario Colombo (2000). Founded in the post-WWII years, MV Augusta has been characterized by two distinct periods: a mass production phase followed by a period of intense work on ultra fast racing machines built for the greatest riders of the day. This book is a company history and catalog of all models.
MICK WALKER
MV Agusta: All Production Road And Racing Motorcycles by Mick Walker (1987)
MV Agusta Fours - The Complete Story by Mick Walker (2000). The fast-paced story of these superlative machines right up to the new F4. Fully illustrated with dynamic black and white photographs of this legendary Italian motorcycle manufacturer's MV Agusta Fours.
MV Agusta Motorcycle Manuals
57 Agusta 125cc TRI Parts Manual 1957 Italian Text.
54-58 Agusta 175cc CST Parts Manual 1954-1958 Italian Text.
MV Agusta Motorcycle Video
MV Agusta Motorcycle History
1970 MV Agusta Motorcycle
Classic Italian Motorcycle Books By Manufacturer
Classic Motorcycle Books By Country