Brough Superior Motorcycle Books
Classic Vehicle Bookshelf >> Classic Motorcycle Books >> Classic British Bike Books >> Brough Superior Motorcycle Books
Brough Superior motorcycle books cover the complete history of George Brough and his superior machines. Plus there are some manuals and brochures.

Brough Superior motorcycles and motor cars were made by George Brough in his Brough Superior works in Nottingham, England, from 1919 to 1940.
CYRIL AYTON
Brough Superior From 1923: Road Tests And Features From The Motor Cycle, Motor Cycling & Motor Cycle Sport by Cyril Ayton (1990)
RONALD CLARK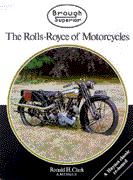 Brough Superior: The Rolls-Royce Of Motorcycles by Ronald Clark (1998). This complete story of the most distinguished name in the history of British motorcycles was written with the full cooperation of the Brough works and of George Brough himself. For more than 30 years, it has been the definitive book on Brough Superior, containing a wealth of technical data, archival photographs, cutaway drawings, diagrams, and nine detailed appendices of engine specs and competition histories.
RICHARD KNOWLES
Two Superiors: The Motorcycling Friendship Of T.E. Lawrence And George Brough by Richard Knowles (2005) tells the story of Lawrence's relationship with both his motorcycles, motorcycling and with the eponymous maker George Brough. It traces his early motorcycle experience and details the seven Brough Superiors that he owned and the eighth on order at the time of his death.
COLIN SIMMS
Brough Superior SS100 - Super Profile by Colin Simms (1984). George Brough demanded perfection with high performance, and his masterpiece is the SS100, variants of which model (and no two are precisely alike) were long his personal steeds as they were also for other discriminating and demanding riders, Lawrence of Arabia amongst them. Scarce and costly, Brough Superior production ceased in 1940. Since 1924 only about 384 SS100 had been built.
Brough Superior Motorcycle Manuals
34-35 Owners Manual By Brough Superior Instruction Book All Models
19-40 Shop Manual For Brough Superior Titled: 'Maintaining Your Brough Superior Motorcycle' by W S Gibbard
Brough Superior Motorcycle Brochures
Sotheby's Motorcycles & Bicycles Auction Catalogues Chicago September 15 2001 & Chicago September 16 2000. Auction lots include Brough Superior and other motorcycles back to 1900.
Brough Superior Motorcycle Videos
Brough Superior 990cc Road Test
1938 Brough Superior SS80
Tribute To Lawrence Of Arabia | The Final Moment On His Brough Superior
Brough Superior At The National Motorcycle Museum
Classic British Motorcycle Books By Manufacturer
Classic Motorcycle Books By Country