Greeves Motorcycle Books
Classic Vehicle Bookshelf >> Classic Motorcycle Books >> Classic British Bike Books >> Greeves Motorcycle Books
Greeves motorcycle books include the rare Mick Walker book on Greeves motorcycles and several Geeves manuals.
Greeves Motorcycles Ltd is a British motorcycle manufacturer producing motorcycles mainly for the trials and off-road market. The original company had been producing motorcycles since 1952.
ROB CARRICK & MICK WALKER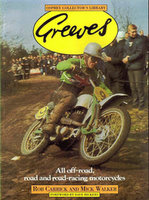 Greeves: All Off-Road, Road And Road-Racing Motorcycles by Rob Carrick & Mick Walker (1988) is very rare as only a small number were published. Loads of information on the various Greeves models produced and on everything associated with the great company. Lots of pictures and stats on engines, frame numbers etc.
Greeves Motorcycle Manuals
Service Manual By Greeves For 56E, 58E, 250 7 380cc 1969 58E 1969
Parts Manual By Greeves For Trials 24TE & 24 TES 1962 24 T E 1962
Parts Manual By Greeves For Trials 24TE & 24 TES 1962 24 T E 1962
Parts Manual By Greeves For Essex Twin - 250cc 25DD & 325cc 32DD 1963
Parts Manual By Greeves For Trials 20TD & 24TDS 1961 1961
Parts Manual By Greeves For Trials 20TC, 20TCS, 24TCS 1960
Instruction Manual By Greeves For 20R-D-S-T-25R-D-32D 1954
Instruction Service Manual By Greeves For 20TA, TAS, SAS, 24SAS, 24DB, 25DB, 20TC, 20TCS, 24TCS date unknown
Parts List By Greeves For 197, 246, & 249 cc 20TA, 20TAS, 24TAS Scottish Trials, 20SAS, 24SAS Hawkstone Special, 25DB Sports Twin, 24DB Sports Single 1959
Classic British Motorcycle Books By Manufacturer
Classic Motorcycle Books By Country