Hesketh Motorcycle Books
Classic Vehicle Bookshelf >> Classic Motorcycle Books >> Classic British Bike Books >> Hesketh Motorcycle Books
Hesketh motorcycle books covers technical and performance data on Hesketh motorcycles plus an historic V1000 brochure.
Hesketh Motorcycles was a British motorcycle manufacturer, based in Daventry and Easton Neston. The company was formed by Alexander, 3rd Lord Hesketh, in 1980,
R M CLARKE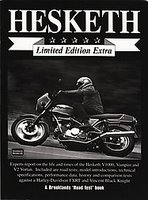 Hesketh Limited Edition Extra by R M Clarke (2002) is a report on the life and times of the Hesketh V1000, Vampire and V2 Vortan. Included are road tests, model introductions, technical specifications, performance data, history and comparison tests against a Harley-Davidson FXRT and Vincent Black Knight.
Hesketh (Author/Date unknown) is a booklet on the Hesketh V1000. Specifications etc, b/w illustrated middle pages with bike picture covering bottom 2 halves. Possibly produced for a PR launch or customers to take from showroom. A bit of motorcycle history.
Hesketh Motorcycle Video
Hesketh V1000 Motorcycle In Japan
Classic British Motorcycle Books By Manufacturer
Classic Motorcycle Books By Country