Sturmey-Archer Motorcycle Books
Classic Vehicle Bookshelf >> Classic Motorcycle Books >> Classic British Bike Books >> Sturmey-Archer Motorcycle Books
Sturmey Archer motorcycle books include the full history of this company that manufactured gear hubs.
Sturmey-Archer are a manufacturing company originally from Nottingham, England. They primarily produce bicycle hub gears but have also produced motorcycle hubs.
TONY HADLAND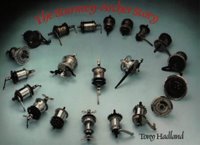 The Sturmey-Archer Story by Tony Hadland (1987) is dedicated to the ingenious designers, past and present, of Sturmey-Archer hubs.
Sturmey-Archer Motorcycle Brochure
The Sturmey-Archer Countershaft Gear (c.1970s) All about the Sturmey-Archer countershaft 3-speed gear. A facsimile of sales brochure first printed 1916, includes details of the gear box and specifications.
Classic British Motorcycle Books By Manufacturer
Classic Motorcycle Books By Country