Matchless Motorcycle Books
Classic Vehicle Bookshelf >> Classic Motorcycle Books >> Classic British Bike Books >> Matchless Motorcycle Books
Matchless motorcycle books has numerous volumes on the history of this old British marque with some manuals.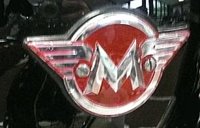 Matchless is one of the oldest marques of British motorcycles with the first models manufactured at the start of the 20th century.
Go to AJS Motorcycle Books for more joint Matchless/AJS books and manuals.
ROY BACON
Matchless And AJS Restoration by Roy Bacon (1989)
BILL CAKEBREAD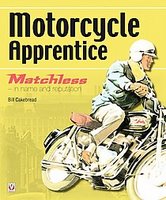 Motorcycle Apprentice: Matchless - In Name & Reputation by Bill Cakebread (2008). A young Londoner had one ambition in life - to work with motorcycles. That simple ambition led to an apprenticeship that was to change his life forever. The training by Associated Motorcycles Ltd enabled achievements that he never dreamed possible. This book gives a unique insight into the atmosphere and excitement of working in a motorcycle factory. It is an inspiring story, supported by period photographs and rare documents, and provides a fascinating record of work within the British motorcycle industry in the final years of its decline into oblivion.
PETER HARTLEY
Matchless: Once The Largest British Motorcycle Manufacturer by Peter Hartley (1981). In the 1950s, the Matchless was one of the leading makes of British motorcycles and its position in the market seemed impregnable. The 'Matchbox' seemed to represent the very essence of British motorcycling at its best. This attempts to trace the decline of so prominent a make of machine in the general context of the story of the Matchless concern, from its humble beginnings as a family business to the largest-ever British manufacturer of motorcycles.
WILLIAM C HAYCRAFT
The New Book Of The Matchless ( 1945 - 1950 Models ) by William C Haycraft (1950) is a practical guide for owners of Matchless motor-cycles (covers all single-cylinder O.H.V. Clubman models from 1945 to 1950).
The Book Of The Matchless: A Practical Guide To The Handling And Maintenance Of All 350cc and 500cc OHV Matchless Touring Singles From 1955 To 1966 (Except The 1960-2 350cc Model G5) And 1965-6 Norton Models 50 And ES2 (Mk II) by William C Haycraft (1967)
The Book Of The Matchless (1945 to 1962) by William C Haycraft (1963) is a practical guide to the handling and maintenance of all 350cc and 500cc O.H.V. touring singles from 1945 to 1962 (except the 1960-2 350cc model G5).
The Book Of The Matchless (1955 to 1966) by William C Haycraft (1967) is a practical guide to the handling and maintenance of all 350cc and 500cc O.H.V. Matchless touring singles from 1955 to 1966 (except the 1960-62 350cc model G5) and 1965-66 Norton models 50 and ES2 (Mk. II).
KEITH JACKSON
Matchless G3L & G80 Super Profile
by Keith Jackson (1984)
F W NEILL
Matchless Motor Cycles: A Practical Guide Covering All Models From 1933 by F W Neill (1948) is a practical guide covering all models from 1933 and also has notes on Matchless engines fitted to Morgan Three-wheelers and other machines.
Matchless Twin Motor Cycles: A Practical Guide Covering All Models From 1950 by F W Neill (1957)
MICK WALKER
Matchless: The Complete Story by Mick Walker (2004). Matchless was one of the true pioneer motorcycle manufacturers. Their first machine was manufactured in London in 1899, and the company really came to prominence in 1907 with victory in the single-cylinder class of the first Isle of Man TT. Over the next seventy years, Matchless produced many distinguished bikes, from singles to magnificent four-cylinder machines. In 1931 Matchless acquired the ailing AJS concern, and the two companies were merged to form AMC - Associated Motorcycles. From then on Matchless and AJS machines became increasingly similar, and for a long time the machines of each mark were practically identical. Mick Walker's history of this famous marque takes in every machine and also looks at the competition fortunes of the company.
Matchless Motorcycle Magazines
The Classic Motor Cycle Magazine (Jan 1999) Articles in this issue include: 1914 Alldays Matchless; Brian Stonebridge Remembered; 50 Years of Triumph Thunderbird; 250 Moto Cuzzi Racer; Exhilarating Ariel Arrow; Bill Swallow's Manx Diary (part two) etc.
Matchless Motorcycle Manuals
Check for the manual you need from countless Matchless Manuals dating from 1920 onwards.
Matchless Motorcycle Videos
1954 Matchless Motorcycle
1951 Matchless Motorcycle G80CS
Classic British Motorcycle Books By Manufacturer
Classic Motorcycle Books By Country