Royal Enfield Motorcycle Books
Classic Vehicle Bookshelf >> Classic Motorcycle Books >> Classic British Bike Books >> Royal Enfield Motorcycle Books
Royal Enfield motorcycle books includes the complete history of Royal Enfield, manuals and handbooks.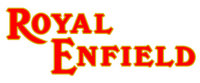 Royal Enfield was the brand of the Enfield Cycle Company, a British engineering company, notable for producing motorcycles.
ROY BACON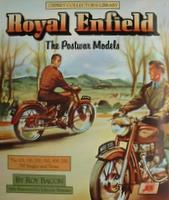 Royal Enfield The Postwar Models by Roy Bacon (1982). Analysis of the postwar models including many photos and a comprehensive specification section. The 125, 150, 250, 350, 500, 700, 750 Singles and Twins.
C A BOOKER
Royal Enfield Motor Cycles: A Practical Guide For Owners And Repairers by C A Booker (1948)
R M CLARKE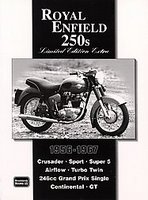 Royal Enfield 250s Limited Edition Extra 1956-1967 by R M Clarke (2004)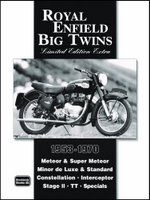 Royal Enfield Big Twins Limited Edition Extra 1953-1970 by R M Clarke (2004). Thirty-five articles on Enfield's successful Big Twins are sourced from Classic Bike, Cycle, Cycle Guide, Cycle World, Modern Cycle, Motor Cycling, Motorcycle Mechanics, Motorcycle Sport, Motorcyclist Illustrated, The Classic Motor Cycle and The Motor Cycle.
PETER HARTLEY
The Story Of Royal Enfield Motor Cycles by Peter Hartley (1981). The origins of the Enfield Cycle Company were in the manufacture of needles and, later,of parts for guns. The story of how this concern developed to produce motor cycles and how these machines became respected throughout the world of trials riding is one which is full of interest.
WILLIAM C HAYCRAFT
The Book Of The Royal Enfield (1937 - 1949) by William C Haycraft (1950) is a complete guide for owners of Royal Enfield motor-cycles and covers singles and V-Twins from 1937 onwards.
The Book Of The Royal Enfield (1946 - 1962) by William C Haycraft (1965) is a practical guide on the handling and maintenance of all 1946 to 1962 Royal Enfield four-stroke standard singles, except the 1957-62 250cc Crusader.
GORDON MAY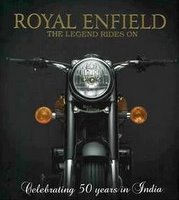 Royal Enfield: The Legend Rides On. Celebrating 50 Years In India by Gordon May (2005). Sumptuous photographs of Royal Enfields old and new, interviews with their owners, and the people who look after these bikes. Produced in 2005 by the team behind Royal Enfield Books in association with Royal Enfield India, this large format coffee-table book celebrates Royal Enfields 50th birthday in India. Royal Enfield The Legend Rides On reveals exactly why those 50 years are indeed something to celebrate and why the Royal Enfield Bullet in particular is a bike loved across the globe.
R E RYDER
The Book Of The Royal Enfield (Covers 1934 to 1938) by R E Ryder (1941) is a complete guide for owners and prospective purchasers of Royal Enfield motor-cycles from 1934 to 1938.
ANDREW STAIT-STAFF
The Mighty Interceptor: Royal Enfield Interceptor 1962-1970 by Andrew Stait-Staff (2005)
MICK WALKER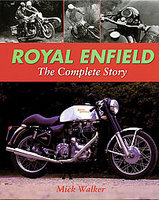 Royal Enfield: The Complete Story by Mick Walker (2003). The firm of Royal Enfield was one of the best-known names of the British motorcycle industry, but curiously its products have never received the adulation bestowed on the products of Triumph, BSA and others. In this complete history, top motorcycle authority Mick Walker shows that there was, in fact, much for the Redditch-based firm to be proud of, in the shape of good-looking, innovative machines that inspired a generation. And what other company can boast a model still in popular production sixty years after its launch?
Royal Enfield Motorcycle Manuals
Check for the manual you need from countless Royal Enfield Instruction Books and Royal Enfield Lists Of Spare And Replacement Parts
Royal Enfield Motorcycle Videos
Royal Enfield Flying Flea Motorcycle
1921 Royal Enfield Motorcycle
Classic British Motorcycle Books By Manufacturer
Classic Motorcycle Books By Country