JAP Motorcycle Books
Classic Vehicle Bookshelf >> Classic Motorcycle Books >> Classic British Bike Books >> JAP Motorcycle Books
JAP motorcycle books on the history of JAP motorcycles and manuals on JAP engines.
JA Prestwich Industries Ltd, was a British engineering company named after founder John Alfred Prestwich (J.A.P.). From 1904 to 1908 complete motorcycles were produced from the development of the first overhead valve motorcycle engine to be produced in the UK. After that the factory concentrated on supplying its engines to other manufacturers
JEFF CLEW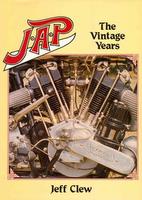 J.A.P: The Vintage Years by Jeff Clew (1985) is the story of J.A.Prestwich & Co and their engines.
J.A.P The End Of An Era by Jeff Clew (1988) is the second volume in Jeff Clew's history of J.A.Prestwich & Co. Ltd. It covers the period from 1926 until the company's demise as an independant entity over thirty years later.
WILLIAM C HAYCRAFT
The Book of the J.A.P. Engine: A Practical Handbook On The Care And Overhaul of J.A.P. Engines (1927 onwards) by William C Haycraft (1939) deals with A.J.W. And Cotton Motor-Cycles and the New S.V.500cc Vertical Twin J.A.P. Engine.
JAP Motorcycle Video
JAP Zenith V Twin Motorcycle 1929
Classic British Motorcycle Books By Manufacturer
Classic Motorcycle Books By Country