Auburn Car Books
Classic Vehicle Bookshelf >> Classic Car Books >> Classic American Car Books >> Auburn Car Books
Auburn car books cover the history of Auburn automobiles and the association with Cord and Duesenberg. Several Auburn manuals, historic sales brochures and magazines are available.
Auburn was a brand name of American automobiles produced from 1900 through 1936.
LEE BECK & JOSH MALKS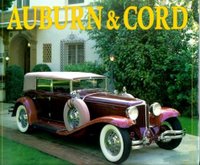 Auburn & Cord by Lee Beck & Josh Malks (1996) chronicles the history of one the automobile's greatest independents. Illustrated by more than 200 historical photographs collected from museums and private collections. The book illuminates the glory years of the small Indiana company that battled the giant automakers and left an indelible mark on the industry.
CHARLES BETT
Auburn Straight-Eight by Charles Bett (1966)
DON BUTLER
Auburn Cord Duesenberg by Don Butler (1992)
JAMES KROEMER, KEVIN BEURET & RANDY BYAL
The Auburn Story: The Classics Come Home by Jamers Kroemer, Kevin Beuret & Randy Byal (1972)
JOHN SOUDER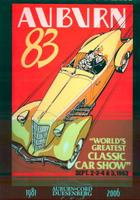 Auburn Cord Duesenberg Festival Posters by John Souder (2006) contains full-colour reproductions of Souder's twenty-six posters for the ACD Festivals from 1981 to 2006.
Auburn Automobile Company
Auburn Motor Cars by Auburn Automobile Company (1928). 'Inside Story of Auburn' on front cover, 'The Product' broken down by components, Auburn plants centerfold, body types (roadster, cabriolet, sedan, sport sedan, speedster, and phaeton sedan), specs on Models 115, 88, and 76, history of the company, balance sheet for 1927 and many illustrations.
Author Unknown
Road & Track on Auburn Cord & Duesenberg 1952-1984 (1987). A collection of contemporary articles covering: Classic tests, Design, Specifications, Salons, Driving impressions, History, Auburn, 851, 852, 866, Cabin, Speedster, Cord, 812, Coupe, L-29, 812SC, Sportsman, Duesenberg, Indy, J, Coupe, J2, SJ and Replica.
Auburn Car Brochures
Auburn Beauty Six Original 1923 Sales Folder. 'The New Silent Sedan'. Large full side view of their latest model. 'Here it is - the triumph of long experience in automobile manufacture and coach craftsmanship!' Inside, seven photos of front and rear compartments, including jump seats and silk window shades, window lift, rear view and three-quarter front view. On back panel, '11 Reasons Why the Auburn Sedan is Silent', with specifications. A stylish item of this much-admired marque.
Advertising Blotter (1956) Showing a bronze-orange Auburn Speedster Model 160. Sample from manufacturer of advertising and sales promotion novelties.
19th Annual Auburn Cord Duesenberg Festival Official Souvenir Book 1974
Auburn Car Magazine
Cars & Parts: December 1969, Volume 13, No.3 (1969) Features the 1934 Auburn as Car of the Month.
Auburn Car Manauals
1934-37 Factory Service Bulletins Manual For Series 850 851 852 By Auburn 1937
Auburn Models 8-100 & 8-100A Instruction Manual For The Care And Operation By Auburn Automobile Co (date unknown)
Original Garage Charts Showing electrical and wiring details for 1925-26 Auburn 6-Cylinder, 1926 Auburn 4-44, 4-Cylinder, with 1925-26 Auburn Model 6-66, 6-Cylinder, 1920-21 Auburn Six Models 6-39 and 6-54 and 1923 Auburn 6-42, with 1923 Auburn 6-63.
Auburn Car Videos
1935 Auburn 851 SC Boattail Speedster
More Auburn car books can be found combined with Duesenberg and Cord car books.
Classic American Car Books By Manufacturers And Models
Classic Car Books By Country
(A work in progress)