Ford Ranchero Car Books
Classic Vehicle Bookshelf >> Classic Car Books >> Classic American Car Books >> Ford Car Books >> Ford Ranchero Car Books
Ford Ranchero car books includes the history and development of the Ranchero.
The Ford Ranchero was a coupe utility produced between 1957 and 1979.
R M CLARKE
Ford Ranchero: 1957-1979 by R M Clarke (1990)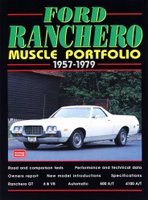 Ford Ranchero Muscle Portfolio 1957 - 1979 by R M Clarke (1990) is a book of contemporary road and comparison tests, technical and specification data, owner's views, engine swapping, model introductions and history. Models covered include: Custom Ranchero, 292, 352, Falcon Ranchero 289, 6 & V8, Fairlane Ranchero 390, 221, Torino Ranchero 302, 351, Hacienda, XA, 500A/T, 4100A/T, GT, LTD II Ranchero.
ADAM GIMBEL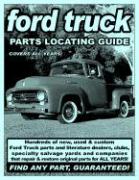 Ford Truck/Ranchero Parts Locating Guide by Adam Gimbel (2003). The largest source of parts information anywhere. Thousands of new, used, & custom Ford Truck/Ranchero parts and literature dealers, clubs, specialty More...salvage yards and companies that repair & restore original parts.
JAMES MAYS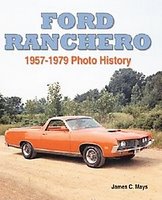 Ford Ranchero 1957-1979 Photo History by James Mays (2004). A tribute to Ranchero, telling the complete story in rich detail. Includes prices and options lists, plus production, sales and export figures. This indispensable reference also offers the unique Canada-only Meteor Rancheros, as well as the Australian versions.
WILLIAM McBRIDE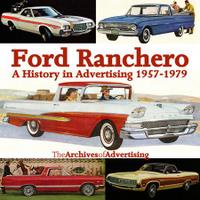 Ford Ranchero 1957-1979: A History In Advertising by William McBride (2007) CD ROM contains a browsable collection of ads carefully scanned from original magazines and newspapers.
WILLIAM SIURU & BILL HOLDER
Ford Ranchero 1957-1979 Photofacts by William Siuru & Bill Holder (1992)
Ford Ranchero Manuals
Check for the manual you need from many Ford Ranchero Manuals
Ford Ranchero Video
Books On Classic Ford Car Models
Classic American Car Books By Manufacturers And Models
Classic Car Books By Country
(A work in progress)