Ford Pinto Car Books
Classic Vehicle Bookshelf >> Classic Car Books >> Classic American Car Books >> Ford Car Books >> Ford Pinto Car Books
Ford Pinto car books cover the development of the Pinto plus the Pinto 'corporate crime' trial.
The Ford Pinto was a subcompact automobile manufactured by the Ford Motor Company for the North American market from 1970 to 1980 model year.
KENNETH BALL
Ford Pinto 1970-1973 Autobook by Kenneth Ball (1974)
DOUGLAS BIRSCH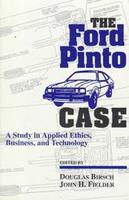 The Ford Pinto Case by Douglas Birsch (1994) brings together the basic documents needed for reaching an informed judgment on the central ethical question in the Pinto case: did Ford Motor Company act ethically in designing the Pinto fuel system and in deciding not to upgrade the integrity of that system until 1978? The five parts of this book cover the case, cost-benefit analysis, whistle blowing, product liability, and government regulations.
FRANCIS CULLEN
Corporate Crime Under Attack: The Ford Pinto Case And Beyond by Francis Cullen (1987). A complete expose of what the authors refer to as "corporate crime", presenting a history of the problem and a historical overview. Continues with the book's major case study, the landmark lawsuit against Ford Motors in the Eighties for the explosion/fire hazard identified in the popular Pinto car.
AL HALL & R E PETERSEN
Petersen's Complete Book Of Pinto by Al Hall & R E Petersen (1975)
LEE STROBEL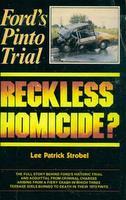 Ford's Pinto Trial: Reckless Homicide? by Lee Strobel (1980)
Ford Pinto Car Manuals
Check for the manual you need from many Pinto Manuals
Ford Pinto Car Video
1970 Ford Pinto Commercial
Books On Classic Ford Car Models
Classic American Car Books By Manufacturers And Models
Classic Car Books By Country
(A work in progress)