Essex Car Books
Classic Vehicle Bookshelf >> Classic Car Books >> Classic American Car Books >> Essex Car Books
Essex car books includes manuals for various Essex automobile models.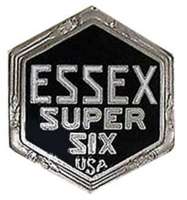 The Essex was a brand of automobile produced by the Essex Motor Company from 1918 to 1922 and Hudson Motor Company of Detroit, Michigan between 1922 and 1932.
Essex Car Manuals
Essex Service Instruction Manual c.1920. A very comprehensive manual,even shows how to uncrate and assemble the car.Suits the 4 cylinder model.
Original Factory Instruction Book For 1927 Essex Super-Six Automobile 1927
Essex Super-Six Instruction Book 1929
Essex Car Sales Literature
Original Factory Sales Literature For 1927 Essex Super-Six Automobile 1927
Essex Car Advertisement
Essex Car Videos
Classic American Car Books By Manufacturers And Models
Classic Car Books By Country
(A work in progress)