Henney Car Books
Classic Vehicle Bookshelf >> Classic Car Books >> Classic American Car Books >> Henney Car Books
Henney car books includes the complete history of Henney automobiles.
Henney Motor Company had been building custom coaches since 1868 and had produced thousands of custom built limousines, ambulances, and hearses before producing the Henney Kilowatt electric car introduced for the 1959 model year.
THOMAS McPHERSON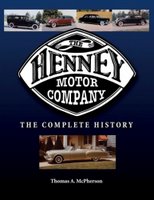 The Henney Motor Company: The Complete History by Thomas McPherson (2009). The only definitive book ever published on Henney and its fabled relationship with Packard, this book is also the story of a pioneering American company, its charismatic leaders, wide array of products and the unique segment of the motor industry in which it was involved.
Henney Car Video
1960 Henney Kilowatt Electric Car
Classic American Car Books By Manufacturers And Models
Classic Car Books By Country
(A work in progress)