Pontiac Car Books
Classic Vehicle Bookshelf >> Classic Car Books >> Classic American Car Books >> Pontiac Car Books
Pontiac car books include the history and development of the Pontiac company and automobiles.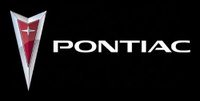 Pontiac is a soon-to-be-defunct brand of automobiles first produced in 1926, and sold in the United States by General Motors.
JOHN ANGELES
Pontiac Racer's & High Performance Handbook by John Angeles (1981)
THOMAS BONSALL
Pontiac: They Built Excitement: The Story Of An American Automobile Company 1926 To 1992 by Thomas Bonsall (1991)
Pontiac: The Complete History 1926-1979 by Thomas Bonsall (1979). Excellent volume on the history and origin of the Pontiac, chapters on show cars, sales literature, commercial cars, portfolio of high performance cars and much more.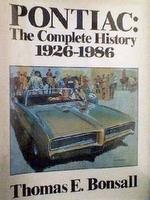 Pontiac: The Complete History 1926-1986 by Thomas Bonsall (1986)
Muscle Pontiacs: The Years Of Excitement by Thomas Bonsall (1985)
Pontiac: Seventy Years Of Milestones by Thomas Bonsall (1995)
RICHARD BUSENKELL
Pontiac Since 1945 by Richard Busenkell (1989) thoroughly covers the post-war history of Pontiac.
R M CLARKE
Pontiac Muscle Cars 1966-1972 by R M Clarke (1985). A collection of contemporary articles covering Tempest, Le Mans, Sprint, Catalina Ventura, GTO, Sports Coupe, 2+2, The Judge, 455, GT37, Firebird, Trans-Am, PFST, 400 R-A, Bobcat, Grand Prix, New Model Reports, Grand Ville Road Tests, Specifications and Comparison.
DAVID & ADAM GIMBEL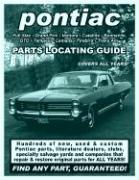 Pontiac / GTO / Tempest / LeMans / Firebird Parts Locating Guide by David & Adam Gimbel (2003). The largest source of parts information anywhere. Thousands of new, used and custom Pontiac parts and literature dealers, clubs, specialty salvage yards and companies that repair and restore original parts. Organized to find what you need quickly and cheaply.
JOHN GUNNELL
Illustrated Pontiac Buyer's Guide: Covers Full-size Pontiacs, Tempest, LeMans, GTO, Grand Prix and Fiero 1946-1987 by John Gunnell (1988)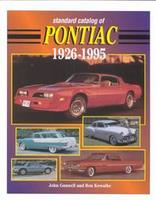 Standard Catalog Of Pontiac 1926-1995 by John Gunnell (1995)
Standard Catalog Of Pontiac 1926-2002 by John Gunnell (2002). Every Pontiac model ever made from 1926 to 2002 is listed, along with the predecessors to Pontiac, the Oakland cars produced from 1908-1931. Collectors will enjoy seeing such models as Silver Streaks, Bonnevilles, Catalinas, Tempests, GTOs, Firebirds, Fieros, Trans Ams, Grand Prixs, Grand Ams, Trans Sports, Can Ams, Venturas, Sunbirds, Sunfires and Aztecs.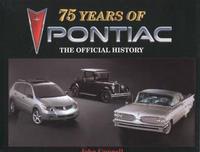 75 Years Of Pontiac: The Official History by John Gunnell (2000). From the Chief of the Sixes and Silver Streaks to the famed GTO, Firebird and Trans Am, this full-colour reference chronicles the rich 75-year history of Pontiac from its introduction in 1926 through the 2000 Aztek.
JIM HAND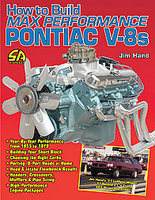 How To Build Max Performance Pontiac V8s by Jim Hand (2004) begins with a year-by-year timeline, tracing Pontiac performance packages from 1955 through to 1979, and then moves on to chapters on bottom end parts, and cooling, oiling, and ignition systems. He has also included special sections on the available carburetors including Tri-Powers, Q-Jets, Thermoquads, and AFBs, as well as detailed information on head porting and exhaust systems, featuring quantitative flowbench and drag-strip results.
MIKE MUELLER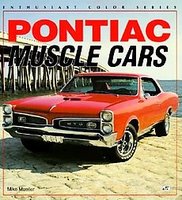 Pontiac Muscle Cars by Mike Mueller (1994). High-performance muscle from Pontiac containing complete history and model specs on Pontiacs muscle cars beginning in the late 50s and continuing through the early 1970s. Beautiful colour photos from the early 60s Bonnevilles, through GTOs, Tempests, Firebird Formulas and Trans Ams, plus interior and engine shots.
JAN NORBYE
Pontiac: The Postwar Years by Jan Norbye (1979)
Pontiac: 1946-1978 The Classic Postwar Years by Jan Norbye (1993). A comprehensive, year-by-year account. Early Pontiac history and design traditions, some of the major players in the design and marketing of Pontiac, technical innovations, specs, photos and technical drawings of engines and other systems, detailed discussions of design changes over time (and how these changes were received by the public), and loads of information charting every variation of car that came off the Pontiac line.
MARTYN SCHORR
Pontiac: The Performance Years Volume 1: 1959-1974 GTO Grand Prix Firebird Trans-Am by Martin Schorr (1982)
Pontiac: The Performance Years Volume 2 by Martin Schorr (1984) gives good accounts of the GTO and Firebird's best years but unlike most books it also covers the full-size Pontiacs as well. Good coverage is found on the Royal cars, the Super Duty engines (including the early '63s) and Pontiac Drag Racing.
Pontiac Pizazz by Jim Wangers (2007)
PAUL ZAZARINE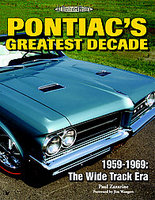 Pontiac's Greatest Decade 1959-1969: The Wide Track Era by Paul Zazarine (2006) captures the energy and the dynamic force of personality that ignited the spirit of Pontiac Motor Division and all of its employees, from designers and engineers to assembly line workers and dealers.
Pontiac Car Models & Manuals
The Pontiac 6000 was a mid-size car introduced by the Pontiac division of General Motors in 1981.
---
The Pontiac Acadian, was a version of the Chevrolet Chevette sold in Canada from 1967 to 1987.
---
The Pontiac Astre was introduced in 1974 and was sold in the US for the 1975-1977 model years. Pontiac's version of the Vega had been sold exclusively in Canada from 1973.
---
The Pontiac Bonneville is an automobile built by the Pontiac division of General Motors from 1957 to 2005.
Pontiac Bonneville Timeline 1957-2005
---
The Pontiac Catalina was part of Pontiac's full-sized automobile line from 1950 to 1981.
---
The Pontiac Chieftain was an automobile produced by the Pontiac Motors Division of General Motors from 1949 to 1958.
---
The Pontiac Custom S was only available for the 1969 model year.
---
The Pontiac Executive was an automobile model produced by the Pontiac Motor Division of General Motors from 1967 to 1970.
---
The Pontiac Grand Am was originally a mid-size car produced from 1973 to 1975 and again from 1978 to 1980.
Pontiac Grand Am Timeline 1973-2005
---
The Grand Safari was Pontiac's top-of-the-line full-size station wagon offered from 1971 to 1978.
1973 Pontiac Grand Safari
---
The Pontiac Grand Ville was the top luxury car in the division's full-sized line from 1971 to 1975.
Pontiac Grand Ville Tribute
---
The Pontiac LeMans was a model name for compact and intermediate-sized automobiles offered by the Pontiac from 1962 to 1981.
1977 Pontiac Le Mans Can Am - 6.6 V8
---
The Pontiac Phoenix was a compact car sold from 1977 to 1984 by Pontiac.
---
Safari was a name first applied to Pontiac's Nomad station wagon.
1956 Pontiac Safari Wagon
---
The Star Chief was a car built by General Motors' Pontiac division between 1954 and 1966.
---
The Pontiac Sunbird, was produced by the Pontiac division of General Motors from 1975 to 1994.
1979 Pontiac Sunbird Commercial
---
Pontiac Tempest was a compact automobile produced by the Pontiac in 1960 until 1972.
R M CLARKE
Pontiac Tempest And GTO 1961-1965 by R M Clarke (1985). A collection of contemporary articles covering Tempest, Supercharged, Convertible, Le Mans, GTO, 194/110, 194/155, 194/166, 194/250, V8 326/260, 326HO/280, 389/325, Royal Bobcat/320, Technical Analysis, Road Tests, New Models, and Comparisons.
1966 Pontiac Tempest Convertible
---
The Ventura was first introduced in 1960 as a classier version of the Pontiac Catalina.
Pontiac Car Video
Books On Classic Pontiac Car Models
Classic American Car Books By Manufacturers And Models
Classic Car Books By Country
(A work in progress)