Chrysler Imperial Car Books
Classic Vehicle Bookshelf >> Classic Car Books >> Classic American Car Books >> Chrysler Car Books >> Chrysler Imperial Car Books
Chrysler Imperial car books covers the history and development of the Chrysler Imperial.

The Chrysler Imperial, introduced in 1926, was the company's top of the range vehicle for much of its history. Models were produced with the Chrysler name until 1954, and again from 1990 to 1993.
R M CLARKE
Chrysler Imperial Gold Portfolio 1951-1975 by R M Clarke (2004) offers road and comparison tests, new model introductions, consumer analysis, specifications and performance data. Magazine articles from the best automotive publications.
Imperial 1955 - 1970 by R M Clarke (1997) contains road and comparison tests of Chrysler's luxury Crown and Le Baron Imperials. Also included are model introductions, consumer analyses, specifications plus full performance and technical data.
RICHARD LANGWORTH
Chrysler And Imperial: The Postwar Years by Richard Langworth (1976)
P A LETOURNEAU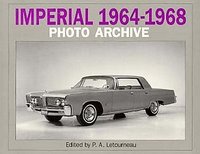 Imperial 1964-1968 Photo Archive by P A Letourneau (1995). An exciting collection of factory, studio and period on-the-street photos of Chrysler's prestigious Imperial. Designed by Elwood Engel, creator of the 1961 Lincoln Continental, the 1964 Imperial brought an end to tail fins, while setting company sales records. A fascinating look at the style-setter of the sixties.
Imperial 1955-1963 Photo Archive by P A Letourneau (1995). A fascinating look at Chrysler's prestigious Imperial during its most popular period. Here are the stately designs of 1955-56: the fins, push-button transmissions, & other doo-dads of 1957-63. This is Imperial when it truly was imperial.
WILLIAM McBRIDE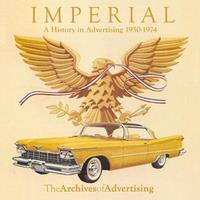 Chrysler Imperial: A History In Advertising 1950-1974 by William McBride CD ROM (2001). Magazine and newspaper ads for the top-of-the-line Chrysler, including limousine ads and the biggest fins of any car ever made. This CD-ROM contains a browsable collection of ads carefully scanned from original magazines and newspapers.
Chrysler Imperial Brochures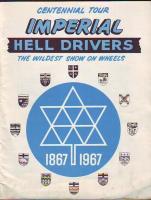 Centennial Tour, Imperial Hell Drivers, The Wildest Show on Wheels (1967). A souvenir program featuring the Chrysler Canada-sponsored Imperial Hell Drivers as they made their tour of Canada in the country's centennial year of 1967.
Chrysler Imperial Manuals
Chrysler Imperial Service Preview Of The 1956 Models 1955
Check for the manual you need from many more Chrysler Imperial Manuals
Chrysler Imperial Video
1950 Chrysler Imperial Limousine
Books On Classic Chrysler Car Models
Classic American Car Books By Manufacturers And Models
Classic Car Books By Country
(A work in progress)