Lincoln Continental Car Books
Classic Vehicle Bookshelf >> Classic Car Books >> Classic American Car Books >> Lincoln Car Books >> Lincoln Continental Car Books
Lincoln Continental car books cover the history and development of the Lincoln Continental.

The Lincoln Continental was an automobile produced by the Lincoln division of Ford Motor Company between 1939 and 2002.
R M CLARKE
Lincoln Continental 1969-1976 by R M Clarke (1992) is a book of contemporary road and comparison tests, specification and technical data, new model introductions, driver's impressions. Models covered include: Mk III, IV, Town Car, Town Coupe, Limousine.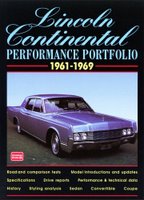 Lincoln Continental Performance Portfolio 1961-1969 by R M Clarke (1992) is a book of contemporary road tests, technical and specification data, new model intro's, driver's reports, history and long term tests.
TIM HOWLEY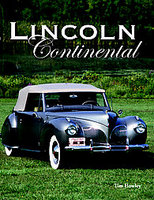 The Lincoln Continental Story From Zephyr To Mark II by Tim Howley (2005). The complete story of the original Lincoln Continental, as told over a period of 50 years in the pages of Continental Comments, the international publication of the Lincoln and Continental Owners Club. Loaded with insightful stories never before published outside of this award-winning magazine. The Lincoln Continental Story begins with the development of the Lincoln-Zephyr and its evolution into the original 1939 - 1940 Lincoln Continental, and indcludes quotes from people who originally designed the car.
OCEE RITCH
The Lincoln Continental by Ocee Ritch (1974)
PAUL WOUDENBERG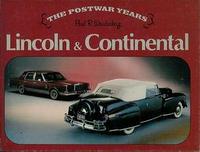 Lincoln & Continental The Postwar Years by Paul Woudenberg (1980). From its tenuous 1946 market postion Lincoln faced formidable competition: Chrysler, Packard, and of course, Cadillac. But not only did Lincoln survive, it rose to preeminence in the luxury personal car field. This is the background for the author's engrossing product history of these great cars. This book covers the extensive market research that went into the 1968 introduction of the stunning Mark III, also covers prototypes, specials and the limousines.
Lincoln Continental Car Manuals
Check for the manual you need from many Lincoln Continental Manuals
Lincoln Continental Car Video
Lincoln Continental Timeline 1939-2002
Classic American Car Books By Manufacturers And Models
Classic Car Books By Country
(A work in progress)