Chrysler Airflow Car Books
Classic Vehicle Bookshelf >> Classic Car Books >> Classic American Car Books >> Chrysler Car Books >> Chrysler Airflow Car Books
Chrysler Airflow car books includes the advertising history of of the Airflow in DVD plus several manuals.

The Chrysler Airflow was an automobile produced by the Chrysler Corporation from 1934 to 1937.
WILLIAM McBRIDE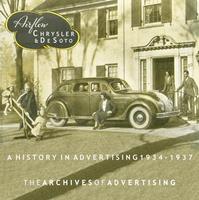 Airflow Chrysler & DeSoto: A History In Advertising 1934-37 by William McBride CD ROM (2001) follows the careers of the Airflow and DeSoto in the company's own magazine and newspaper advertising. The cars were an engineering success and a marketing failure. This CD-ROM contains a browsable collection of ads carefully scanned from original magazines and newspapers. The ads are searchable by year and model of product and can be viewed on any computer.
Chrysler Airflow Manuals
Airflow Chrysler Eight Instruction Book Date unknown
Eight Airflow Owners Manual By Chrysler 1935
Chrysler Airflow Advertisements
"The Airflow Chrysler Brings A New Form Of Travel" 1934
Airflow Chrysler 1936
Chrysler Airflow Video
Chrysler Airflow 1934-1937
Books On Classic Chrysler Car Models
Classic American Car Books By Manufacturers And Models
Classic Car Books By Country
(A work in progress)