LaSalle Car Books
Classic Vehicle Bookshelf >> Classic Car Books >> Classic American Car Books >> General Motors Car Books >> LaSalle Car Books
LaSalle car books cover the history and development of LaSalle automobiles.
The LaSalle was an automobile product of General Motors Corporation and sold as a companion marque of Cadillac from 1927 to 1940.
RON VAN GELDEREN & MATT LARSON
La Salle: Cadillac's Companion Car by Ron Van Gelderen & Matt Larson (2000). The first and only comprehensive history of the marque. A lavish book, well illustrated and researched by two of the foremost experts on La Salle.
WALTER McCALL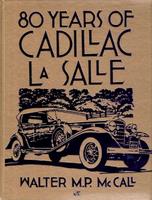 80 Years Of Cadillac La Salle by Walter McCall (1992) presents a photographic record of each and every standard production model and body style produced over the fourscore years the Cadillac Motor Car Division has been in existence.
STEVEN SISSON
Cadillac Welcomes LaSalle, A New Car For Cadillac Homes by Steven Sisson (1971). Cadillac La-Salle Club booklet.
LaSalle Car Manuals
Check for the manual you need from many LaSalle Manuals
LaSalle Car Videos
1935 LaSalle Model 50 Convertible
Books On Classic General Motors Car Divisions & Models
Classic American Car Books By Manufacturers And Models
Classic Car Books By Country
(A work in progress)