Chevrolet Nova Car Books
Classic Vehicle Bookshelf >> Classic Car Books >> Classic American Car Books >> Chevrolet Car Books >> Chevrolet Nova Car Books
Chevrolet Nova car books covers the Nova and Chevy II automobiles.
The Chevrolet Nova is an automobile produced from 1962 to 1979 by the Chevrolet division of General Motors. Originally it was the Chevy II range and marketed as the Chevrolet Chevy II Nova until the Chevy II name was dropped in 1969.
R M CLARKE
Chevy II Nova And SS 1962-1972 by R M Clarke (1985). A collection of contemporary articles covering Chevy II, Nova, Super, Rally 6&8, SS, 153/90, 194/120, 250/145, 283/194, 327/275, 327/350, 402/350, Road tests, 427/500+ and Comparisons.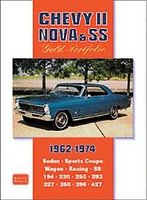 Chevy II Nova & SS Gold Portfolio 1962-1974 by R M Clarke (2004). 45 magazine articles published in Car and Driver, Car Craft, Car Life, Hot Rod, Motor Trend, Road Test, Special Interest Autos, Sports Car Graphic, Street Machine, Track & Traffic, Wheels, World Car Catalogue and other automotive publications.
DOUG MARION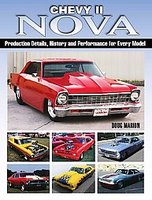 Chevy II Nova: Production Details, History And Performance For Every Model by Doug Marion (2008) includes more than 250 colour photos of winning show cars and record-setting drag racing scenes, plus information about some of the finest restored and original Novas around, including a Dick Harrell 427, RPO L79 `66s and a factory Chevy II with a moon roof.
STEVE STATHAM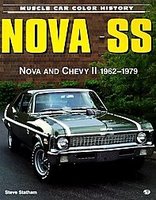 Nova SS: Nova and Chevy II 1962-1979 by Steve Statham (1987). The unplanned yet impressive rise of the Chevy II to musclecar fame is chronicled in this detailed and fascinating history, with a focus on the V-8 performance era of the coveted Nova SS models, including the potent SS350, awe-inspiring SS396 and the Yenko Deuce.
SUPER CHEVY MAGAZINE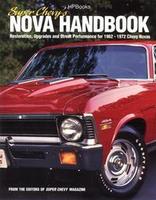 Super Chevy Nova's Handbook: Restoration and Performance For 1962-1967 Chevy Novas by Super Chevy Magazine (2000)
Chevrolet Nova Manuals
Check for the manual you need from many Chevrolet Chevy II Nova Manuals
Chevrolet Nova Video
Chevrolet Nova Timeline 1962-1990
Classic American Car Books By Manufacturers And Models
Classic Car Books By Country
(A work in progress)