Kaiser-Frazer Car Books
Classic Vehicle Bookshelf >> Classic Car Books >> Classic American Car Books >> Kaiser-Frazer Car Books
Kaiser-Frazer car books includes the history, advertisements and magazines on the Kaiser-Frazer automobiles.
The Frazer (1946-1951) was the flagship senior line of upper-medium priced American luxury automobiles built by the Kaiser-Frazer Corporation of Willow Run Ypsilanti, Michigan.
The Kaiser-Frazer Corporation was the result of a partnership between automobile executive Joseph W Frazer and Industrialist Henry J Kaiser of Kaiser Company/Kaiser Industries.
R M CLARKE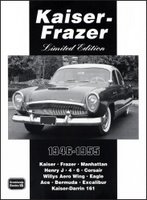 Kaiser-Frazer 1946-1955 by R M Clarke (1997) contains road tests and specifications covering Kaiser built cars. Included are reports on Kaiser and Frazer models, plus the Henry J, 4, 6 and Corsair. Also covered are the Willys Aero Wing, Ace, Eagle, Bermuda plus the Kaiser Darrin 161 Sportscar.
FLOYD CLYMER
A Report And Investigation Of Kaiser-Frazer Automobiles by Floyd Clymer (1947)
PATRICK FOSTER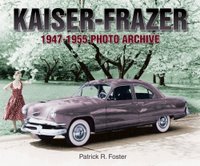 Kaiser-Frazer 1947-1955 Photo Archive by Patrick Foster (2009). Henry J Kaiser and Joseph Washington Frazer boldly decided to take on America's Big Three automakers. Hoping to position their Kaiser-Frazer Corporation in the big leagues of auto manufacturers they would launch a radical new car to capture the public's imagination and produce it in unheard-of quantities. The cars were an immediate hit. Thousands lined up to see and buy the new Kaiser and Frazer cars. In time K-F introduced hardtops, sedans, convertibles, an impressive fiberglass sports car and a line of low-priced compact cars. But competition eventually proved overwhelming and Kaiser-Frazer production ended in the US, though Kaiser cars continued to be built in South America into the 1960s.
RICHARD LANGWORTH
Kaiser-Frazer: The Last Onslaught On Detroit: An Intimate Behind The Scenes Study Of The Postwar American Car Industry by Richard Langworth (1975)
Kaiser-Frazer Car Magazines & Sales Literature
Kaiser-Frazer Magazine Kaiser-Frazer Owners Club magazines from 1978, 1979 and 1980
Original 1952 Sales Folder For Henry J Corsair Automobile 1952
Article: 'Detroit Surprise' Kaiser & Frazer Score Victory With 100,000th New Automobile 1949 Life Magazine
Kaiser-Frazer Car Advertisements
Advertisement For Frazer Automobiles 1948, 1949 and 1950
Kaiser-Frazer Car Videos
Kaiser-Frazer Car History
Classic American Car Books By Manufacturers And Models
Classic Car Books By Country
(A work in progress)