Graham-Paige Car Books
Classic Vehicle Bookshelf >> Classic Car Books >> Classic American Car Books >> Graham-Paige Car Books
Graham-Paige car books includes the history and development of Graham-Paige automobiles.
The Graham brothers, Joseph and Robert, decided to enter the automobile business when in 1927, they purchased the Paige-Detroit Motor Company.
MICHAEL KELLER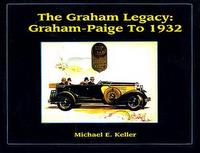 The Graham Legacy: Graham-Paige To 1932 by Michael Keller (1998). Graham-Paige Motors Corporation lives again in the pages of this book. Michael E. Keller's factual account is based upon through research, giving a clear picture of the formation and operations of the former Dearborn, Michigan, automaker. This blending of historical, personal, business and technical aspects results in an informative and thoroughly interesting read.
Graham-Paige Car Brochures
Graham-Paige Motors Corporation Annual Report 1947
Graham For 1938 1938 Graham-Paige automobile sales brochure. Sales photos of 2 different models, sedan and coupe with specifications.
Graham-Paige Car Videos
1939 Graham Supercharger Car
Classic American Car Books By Manufacturers And Models
Classic Car Books By Country
(A work in progress)