Oldsmobile Car Books
Classic Vehicle Bookshelf >> Classic Car Books >> Classic American Car Books >> General Motors Car Books >> Oldsmobile Car Books
Oldsmobile car books includes the history of Oldsmobile and all the Olds automobile models.
Oldsmobile was a brand of automobile produced for most of its existence by General Motors. It was founded by Ransom E Olds in 1897.
DENNIS CASTEELE
The Cars Of Oldsmobile by Dennis Casteele (1981)
JOHN CHEVEDDEN & RON KOWALKE
Standard Catalog Of Oldsmobile 1897-1997 by John Chevedden & Ron Kowalke (1997). Techs and specs, original factory prices, production and serial numbers, and engine/chassis codes are noted by model, thus helping you determine authenticity accuracy.
R M CLARKE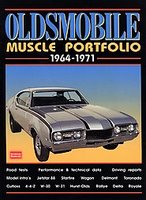 Oldsmobile Muscle Portfolio 1964-1971 by R M Clarke (1999) is a book of contemporary road tests, specification and technical data, new model introductions, driver's impressions, track tests. Models covered include: Jetstar 88, Cutlass Holiday, Starfire, 4-4-2, Delta 88, Toronado, Supreme, Hurst/Olds, Delmont, W-31, W-30, Delta Royale, Rallye 350.
Oldsmobile Muscle Cars 1964-1971 by R M Clarke (1984)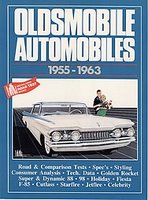 Oldsmobile Automobiles 1955-1963 by R M Clarke (1989) charts the story of the Oldsmobile cars throughout the decade. This book of contemporary articles includes road tests, specification and technical data, long term assessments, introductory articles. Models covered include: Super 88, 98 Deluxe, Dynamic 88, Holiday, Fiesta, F85, Starfire, Jetfire, F85 Cutlass.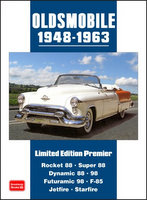 Oldsmobile 1948-1963 by R M Clarke (1989). A comprehensive record of the development of Oldsmobile cars in post-war years starting with the first new designs, going right through the chrome and fins Fifties and up to the beginnings of the classic muscle car era.
HELEN JONES EARLEY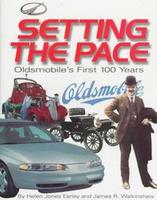 Setting The Pace: Oldsmobile's First 100 Years by Helen Jones Earley (1997) chronicles the rich heritage of Oldsmobile's first hundred years through lively, insightful text and hundreds of fascinating period photographs taken from the archives of the Oldsmobile History Center. Throughout these pages are the personal reminiscences of those who were there - the executives, designers, engineers, factory hands and many others who played their part in Oldsmobile's first century. The book concludes with comprehensive tables covering a hundred years of Oldsmobile models, production, managers, plants and other information of interest.
ADAM GIMBEL
Oldsmobile / Cutlass / 442 / F85 / Toronado / Delta 88-98 / Hurst Parts Locating Guide by Adam Gimbel (2003). The largest source of parts information anywhere. Thousands of new, used and custom Oldsmobile parts and literature dealers, clubs, specialty salvage yards and companies that repair and restore original parts. Organized to find what you need quickly and cheaply. Any year, any part, any Oldsmobile.
DOTTIE JARBOE
Olds A La Mode: Favorite Recipes From Oldsmobile People by Dottie Jarboe (1986). Recipes from Oldsmobile collectors and friends.
BEVERLEY KIMES & RICHARD LANGWORTH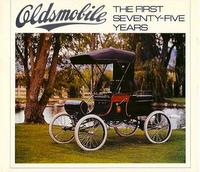 Oldsmobile: The First Seventy-Five Years by Beverley Kimes & Richard Langworth (1972). Great photos and technical details about Oldsmobiles through the years.
AL KIRSCHENBAUM
Oldsmobile In Action by Al Kirschenbaum (1987) includes Oldsmobile DRCE, Extra-Duty Diesels and Lansing's latest frontrunners and more.
BYRON OLSEN
Oldsmobile 1946-1960 Photo Archive by Byron Olsen (2006). Oldsmobile had long been GM's experimental division, pioneering new engineering and design ideas before they spread to other GM marques. Major ideas pioneered by Olds included the first GM semi-automatic transmission in 1937 and Hydra-matic automatic transmission in 1940. Yet Olds still seemed stodgy in the late forties compared to glamorous sibling Buick, which led Olds in sales. All that changed in 1949 when Olds introduced the first modern high-compression overhead valve engines (with Cadillac), the Rocket V8. Sales boomed in the fifties, helped by dazzling new styling and the industry's first panoramic windshields. All of the great looking Oldsmobiles of this exciting time are presented here in sharp detail with high quality photos from the National Automotive History Collection. Here are the revolutionary first hardtops, and later the first four-door hardtops, Starfires, Fiestas, and concept cars. Here, too, are the less fortunate 1957 and 1958 models, when bad styling decisions caused sales to fall. Oldsmobile would recover and go on to again lead the industry in sales in later years, only to perish for good in the new millennium. Superb photos are tied together with authoritative and informative captions, telling the story of Olds in these nostalgic years.
DUANE YARNELL
Auto Pioneering: A Remarkable Story Of Ransom E Olds by Duane Yarnell (1949) is a biography of Ransom E Olds, founder of Oldsmobile and Reo autos.
All CLASSIC OLDSMOBILE MODELS & MANUALS
The Curved Dash Oldsmobile is credited as the first high-volume mass-produced gasoline automobile. It was introduced by the Oldsmobile company in 1901 and produced through 1907.
JOHN HAMMOND
From Sea To Sea In 1903 In A Curved Dash Oldsmobile by John Hammond (1985). The authentic story of the Whitman-Hammond horseless-carriage expedition from San Francisco to New York, Boston and Portland, Maine.
1905 Curved Dash Oldsmobile
---
The Series 60 was a model range of automobiles from General Motors Oldsmobile Division during the 1940s.
1941 Special 60 B-44 Oldsmobile Commercial
The Oldsmobile Series 70 Dynamic Cruiser was an automobile from General Motors in the 1940s.
1942 Dynamic 70 B-44 Oldsmobile Commercial
The Oldsmobile 98, originally Series 90, was a full-size automobile, as well as the flagship model of the Oldsmobile division of General Motors in the United States. The name first appeared in 1941.
1941 Custom 8 Cruiser B-44 Oldsmobile Commercial
Oldsmobile Series 60, 70 & 90 Manuals
---
The Oldsmobile 442 was a muscle car produced by the Oldsmobile division of General Motors in 1964 as a Cutlass option. It became a model in its own right from 1968 to 1971.
R M CLARKE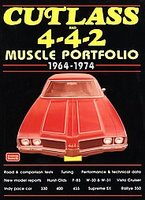 Cutlass And 4-4-2 Muscle Portfolio 1964-1974 by R M Clarke (1998) is a book of contemporary road tests, new model introductions, specification and technical data, driver's impressions, long term tests, racing, development and history.
PATRICK SULLIVAN
Oldsmobile 4-4-2 & W-Machines Restoration Guide by Patrick Sullivan (1992). The last word on 4-4-2 restoration featuring every detail in over 1,000 illustrations. Production figures, special parts numbers, and all the 4-4-2s in great detail. Covers the first 4-4-2 in 64 through 1972, including W-30, W-31, W-32, Hurst/Olds, Indy Pace Car, and Rallye 350.
---
The Oldsmobile Cutlass was a line of automobiles made by the Oldsmobile division of General Motors from 1961 to 1981.
1966 Oldsmobile Cutlass Supreme
---
Oldsmobile used the Custom Cruiser name on their large rear-wheel drive station wagons from 1971 to 1992.
Oldsmobile Custom Cruiser Manuals
1971 Oldsmobile Custom Cruiser
---
The Vista Cruiser is a station wagon built by the Oldsmobile Division of General Motors from 1964 to 1977.
Oldsmobile Vista Cruiser Manuals
1970 Oldsmobile Vista Cruiser
---
The Toronado was a two-door coupe produced by the Oldsmobile division of General Motors from 1966 to 1992.
R M CLARKE
Oldsmobile Toronado 1966-1978 by R M Clarke (1985)
1966 Oldsmobile Toronado 425V8 Front Wheel Drive
Jay Leno's 1966 Oldsmobile Toronado
---
Starfire was an automobile nameplate used by the Oldsmobile division of General Motors for the 1954-1956 '98' series convertibles.
---
The Oldsmobile Firenza was a compact car produced by the Oldsmobile division of General Motors from 1982 to 1988.
OLDSMOBILE History Videos
Oldsmobile History Part 1
Oldsmobile History Part 2
Books On Classic General Motors Car Divisions & Models
Classic American Car Books By Manufacturers And Models
Classic Car Books By Country
(A work in progress)