Columbia Electric Car Books
Classic Vehicle Bookshelf >> Classic Car Books >> Classic American Car Books >> Columbia Electric Car Books
Columbia Electric car books includes a vintage 1907 advertisement for the Columbia Electric Carriage.
The Columbia Automobile Company was a leading early Hartford, Connecticut manufacturer of automobiles. A joint venture of the Motor Vehicle Division of the Pope Manufacturing Company and the Electric Vehicle Company in 1899.
Columbia Electric Adertisement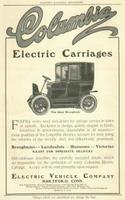 Columbia And Studebaker Automobile Advertisements (1907) Harper's Magazine. Columbia Electric Carriage on one side and Studebaker on the other. The Columbia advertisement is for the Ideal Brougham and the other is for the Studebaker Brougham.
Classic American Car Books By Manufacturers And Models
Classic Car Books By Country
(A work in progress)