Lincoln Car Books
Classic Vehicle Bookshelf >> Classic Car Books >> Classic American Car Books >> Lincoln Car Books
Lincoln car books covers the history of Lincoln automobiles plus advertising and manuals.

Lincoln is the luxury brand of Ford Motor Company. Founded in 1917 by Henry M. Leland and acquired by Ford in 1922, Lincoln has manufactured vehicles since the 1920s.
THOMAS BONSALL
The Lincoln Motorcar: Sixty Years Of Excellence by Thomas Bonsall (1981). A history of the Lincoln Motor Car company, complete with an entire review of every model right up to the Mark VIII.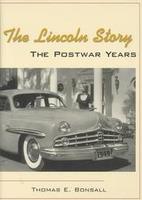 The Lincoln Story: The Postwar Years by Thomas Bonsall (2003). This comprehensive, illustrated history describes in detail the successes and failures of the Lincoln from World War II up to the present-day Aviator. It discusses the forces in the market and in Ford Motor Company that have affected the Lincoln, and is a must read for anyone interested in this classic marque.
R M CLARKE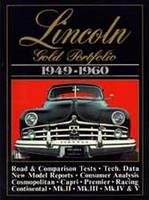 Lincoln Gold Portfolio 1949-1960 by R M Clarke (1992) is a book of contemporary road and comparison tests, technical and specification data, model introductions, competition, driver's reports. Models include: Cosmopolitan, Capri, Continental Mk II, III, IV, V.
GEORGE DAMMANN
The Cars Of Lincoln-Mercury by George Dammann (1987). In addition to the product histories of all the Lincoln and Mercury lines, including imports such as the European Capri, it encompasses those of closely and peripherally related makes from 1921 to 1987.
Fifty Years Of Lincoln-Mercuryby George Dammann (1971)
JOHN GUSTAFSON
Classic Tradition Of The Lincoln Motorcar by John Gustafson (1968). A special edition to commemorate the introduction of the Continental Mark III.
MAURICE HENDRY
Lincoln: Ballantine's Illustrated History Of The Car by Maurice Hendry (1971)
JAMES HOWELL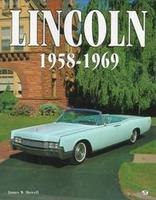 Lincoln 1958-1969 by James Howell (1997). A history of Lincoln Continentals produced between 1958 and 1969. Detailed year-by-year review, with 250 illustrations covering changes in body style, performance, and more.
NANCY KENNEDY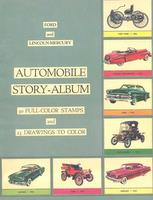 Ford And Lincoln-Mercury Automobile Story by Nancy Kennedy (1953). 30 full colour stamps and 23 drawings. This was probably a dealership give-away in 1953 as that is the latest car shown. All 30 stamps are present and uncut,
BEVERLEY KIMES
The Classic Tradition Of The Lincoln Motorcar by Beverley Kimes (1968)
The Golden Anniversary Of The Lincoln Motorcar 1921-1971 by Beverley Kimes (1970)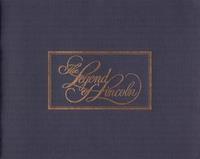 Legend Of Lincoln by Beverley Kimes (1987)
MARK PATRICK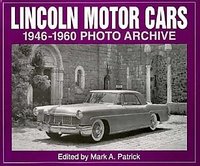 Lincoln Motor Cars 1946-1960 Photo Archive by Mark Patrick (1996). With photographs provided from the Detroit Public Library's National Automotive History Collection, Mark Patrick profiles the post-war years of the Ford Motor Companys Lincoln Motor Car Division. Featured here are the post-war versions of Edsel Fords Continental, Cosmopolitan, Capri, Premiere and the revived Continental automobiles.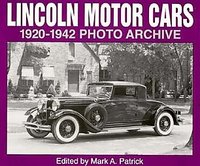 Lincoln Motor Cars 1920-1942 Photo Archive by Mark Patrick (1996). Photographs from the Detroit Public Library's National Automotive History Collection. From Henry Leland's earliest Lincolns to the magnificent V-12's and Edsel Ford's Continental, a collection of photos that demonstrate the elegance of one of America's most prestigious automobiles. Features factory and custom-built bodies.
GREGORY VON DARE
American Classics: Lincoln 1945-1995 by Gregory Von Dare (1995). Lincoln automobiles have been among America's greatest luxury cars since the early 1920s. Founded by master machinist Henry Leyland and shaped into a world-class marque by Edsel Ford, Lincoln has seen its shares of ups and downs, but has produced some of this century's most memorable automobiles.
WILLIAM McBRIDE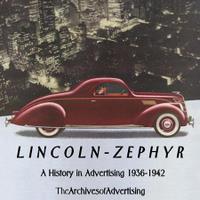 Lincoln Zephyr: A History In Advertising 1936-1942 by William McBride (2001) CD ROM. Over 80 ads in colour and black-and-white from magazines and newspapers.
No Author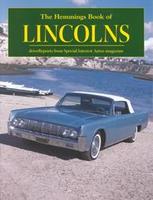 The Hemmings Book Of Lincolns (2002) covers 1928 Lincoln phaeton, 1939 Lincoln Zephyr, 1941 Lincoln Continental, 1955 Lincoln Capri, 1958 Lincoln Continental plus several others.
Lincoln Car Manuals
1937 Lincoln Zephyr Coupe V12
---
1949 Lincoln Cosmopolitan
---
---
---
---
Lincoln Car Video
1936 Lincoln V12 LeBaron Model 7
For the classic Lincoln Continental car books, go to....
Classic American Car Books By Manufacturers And Models
Classic Car Books By Country
(A work in progress)