Haynes-Apperson Car Books
Classic Vehicle Bookshelf >> Classic Car Books >> Classic American Car Books >> Haynes-Apperson Car Books
Haynes-Apperson car books cover the history of 'America's first practical automobile'.
Haynes-Apperson Company was a manufacturer of automobiles in Kokomo, Indiana from 1896 to 1905.
W C MADDEN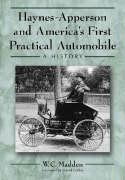 Haynes-Apperson And America's First Practical Automobile: A History by W C Madden (2006). While Elwood Haynes and the Apperson brothers are not as well known as Henry Ford, Ransom Olds and other famous automobile manufacturers, their contributions to the automotive industry are just as significant. They were responsible for one of the first functioning automobiles, if not the first, in the United States. After building their automobile in 1894, the three men formed the Haynes-Apperson Automobile Company in Kokomo, Indiana, one of the first car manufacturing companies in the country. Three years after incorporation, a dispute over money caused the partnership to split up and Edgar and Elmer Apperson formed their own company. Both companies lasted until the mid 1920s. This book is a history of these automotive pioneers and their companies: the Haynes-Apperson Automobile Company, the Haynes Automobile Company, and the Apperson Brothers Automobile Company.
GLEN BANNER
Haynes-Apperson Festival: A Tribute To The Automobile History Of Kokomo by Glenn Banner (1977) includes Haynes home, ads, floor plan and drawing of homes built for employees, history, fesival schedule, history of Delco Electronics, Kokomo Rubber, Chrysler in Kokomo, Kingston Products and more.
Classic American Car Books By Manufacturers And Models
Classic Car Books By Country
(A work in progress)