Maxwell Car Books
Classic Vehicle Bookshelf >> Classic Car Books >> Classic American Car Books >> Maxwell Car Books
Maxwell car books include advertisements, brochures and manuals for the Maxwell automobile.
The Maxwell was a brand of automobiles manufactured in Tarrytown, New York from about 1904 to 1925. The present-day successor to the Maxwell company is the Chrysler Group.
Maxwell Car Advertisements
1924 Maxwell Touring Car 1924 magazine advertisement with illustration of The Good Maxwell Touring Car with description of this vehicle.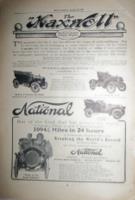 Advertisement For Maxwell, National And Premier Automobiles (1906) One side of this original ad features two half-page ads - one for the Maxwell, manufactured from 1904-1925 at Tarrytown, NY and later Newcastle, IN and Dayton OH. At one time the Maxwell was considered one of the top three automobiles in the US, along with Ford and Buick. This car was also made famous by comedian Jack Benny.
Maxwell Car Sales Brochures
Maxwell Motor Cars Sales Brochure c.1919
Maxwell Motor Cars Sales Brochure c.1920
Original Sales Literature For Maxwell Automobile 1919 & 1920
Original Sales Catalogue For Maxwell Automobile 1915 & 1916
Maxwell Car Manuals
Maxwell Instruction Book 1915 & 1919 Instructions on all facets for the new owner of the Maxwell 5-passenger touring car, including starting the car, care of the carburetor, testing the magneto, lubrication schedule and more.
Maxwell Motor Cars - The Twenty Five (1925) Contains lots of illustrations of different models, the motor, transmission, photos showing factory scenes and specifications.
Maxwell Car Videos
Classic American Car Books By Manufacturers And Models
Classic Car Books By Country
(A work in progress)