Ford Models B, C, K, R, Y Car Books
Classic Vehicle Bookshelf >> Classic Car Books >> Classic American Car Books >> Ford Car Books >> Ford Models B C K R Y Car Books
Ford Models B C K R Y car books include the history of these Ford models, plus brochures and manuals.
The Ford Model B was an upscale touring car introduced in 1904.
The Ford Model B was also a new Ford automobile produced in model year 1932. It was a much updated version of the Model A. The 'Deuce' is a term used to refer to the 1932 Ford coupe.
The Ford Model C was introduced in 1904 and was a version of the first Ford Model A with more modern look and slightly more powerful engine.
The Ford Model K was an upscale automobile produced by the Ford Motor Company. It was introduced in 1906 and replaced the earlier Model B.
The Ford Model R was a higher trim level of the Model N
The Ford Model Y (1932-1937) was the first Ford specifically designed for markets outside the USA.
EDWARD FRANCIS
The Early Ford V8: As Henry Built It: A Production Facts Book 1932-38 by Edward Francis (1982)
ROBERT GENAT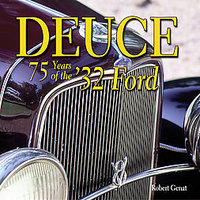 Deuce: 75 Years Of The '32 Ford by Robert Genat (2006). The 1932 Ford, the Deuce, is among the most important automobiles ever produced. A landmark car for Ford, the '32 introduced Henry Ford's groundbreaking V-8 engine, bringing the iconic engine configuration to the masses for the first time.
SAM ROBERTS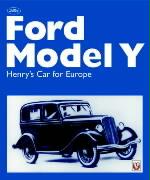 Ford Model Y: Henry's Car For Europe by Sam Roberts (2001). The Model Y was the first Ford designed to sell outside the USA, Ford's first 'world car.' 165,000 examples, plus 30,000 rolling chassis for export, were built in Dagenham between 1932 & 1937, capturing half the British small car market in 1935.
TONY THACKER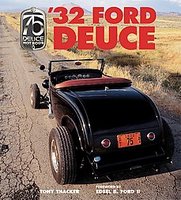 '32 Ford Deuce: The Official 75th Anniversary Edition by Tony Thacker (2007). A complete authoritative and illustrated history published with the Ford Company's co-operation, this book looks at every facet of the Deuce's story: factors leading to its design, how it was manufactured and sold, the development of the now-legendary flathead engine and motorsport exploits around the globe.
32 Ford The Deuce: A Formal And Sporting History Of Ford's First V8 And The Model B by Tony Thacker (1985)
Ford Models B, C, K, R, Y Car Brochures
The Ford 1905: An Illustration Of The Powerful Model B And C 1905
Ford Model Y Car Manuals
Illustrated Parts Catalogue 8 HP Model Y 1933
Ford Models B, C, K, R, Y Car Videos
1932 Ford Model B Pick Up
Books On Classic Ford Car Models
Classic American Car Books By Manufacturers And Models
Classic Car Books By Country
(A work in progress)