Cord Car Books
Classic Vehicle Bookshelf >> Classic Car Books >> Classic American Car Books >> Cord Car Books
Cord car books covers the history of Cord and Cord models.
Cord was the brand name of an American automobile, manufactured by the Auburn Automobile Company from 1929 through 1932 and again in 1936 and 1937.
JON BILL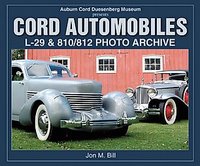 Cord Automobiles: L-29 & 810/812 Photo Archive by Jon Bill (2004). The decade of the thirties witnessed the apogee of the golden age of classic cars. The Cord automobile, in both versions, with its spectacular style and advanced technology was without doubt one of the most extraordinary cars to be built during its era. The Cord automobile, as Cord the man, has from its genesis signified innovation, power and mystique. Those Cords that survive continue to inspire and influence the design of modern automobiles. Spectacular photographs combined with in-depth captions tell the story. Includes a concise and informative history of Cord, both the company and the man.
GRIFFITH BORGESON
Errett Lobban Cord: His Empire, His Motor Cars: Auburn, Cord, Duesenberg by Griffith Borgeson (1984) is an elegant biography and history of Cord and his cars with hundreds of high quality photographs and facsimiles of early ads.
ROGER HUNTINGTON
The Cord Front-Drive: The Intriguing Story Of A Fabulous Automobile by Roger Huntington (1957) contains a list of 181 questions and answers about the Cord automobiles. Full descriptions and technical data on both L-29 and 801-812 Cord models are included along with road performance comments. The author's comments on why and how the Cord car died is included.
WILLIAM KINSMAN
Cord Models 810 And 812 by William Kinsman (1966)
JOSH MALKS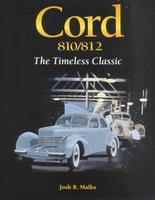 Cord 810/812: The Timeless Classic by Josh Malks (1996). Whisk down memory lane in one of America's most recognizable cars. Enjoy hundreds of photos and drawings of one of the most dynamic autos of this century.
DAN POST
Cord Without Tribute To Tradition: The L-29 Front-Drive Legend by Dan Post (1974). "With its bold traction parts exposed as prominently as the talons of an eagle and the near-midpoint location of a squat windshield accenting the substantial stretch of its roadbound profile, the first appearance of the fluid, functional lines of the Cord car brought physical reality to what the schoolboy had been sketching for years, in daydream designs. The world's first bonafide production model of a front-wheel drive car was groomed for an indelible reception when Auburn people quietly slipped the Cord into automobile exhibitions, along with the extablished line, in the summer and fall of 1929."
The Classic Cord by Dan Post (1952). A wonderful history of the Cord automobile, including reproductions of company brochures, catalogues, sales manuals and other advertising, plus trade journal mechanical articles, road tests and sales information.
Cord Car Brochures
The New Cord Undated. Auburn Automobile Company
Facts About The New Cord For Cord Salesman Including Questions And Answers Undated. Auburn Automobile Company
1930 Cord (Front Drive) (1930) Auburn Indiana Cord Automobile Co. Illustrations showing all old Cords through the years from wagons down to a Cabriolet. Prices Sedan $3095, Brougham $3095, Cabriolet $3295 and Phaeton $3295.
Price List Of Cord Automobile Tires (1916) Small folding brochure.
The New Front Drive Cord (Undated) 6 page sales brochure, with illustrations of the Cord sedan, Convertible Phaeton, and Convertible Coupe, plus 2 pages of mechanical features with accompanying photographs.
Cord L-29 (1991) 5.5" x 5.5"card. Colour photograph. Specifications and history on the reverse.
Extra Tested Multi Mile Cord Tires (c.1920) Racine Rubber Co.
Cord Car Manuals
Owner's Manual: Cord Front Drive Model L-29 (Undated) A Clymer reprint of an original instruction book for the Cord Model L-29.
Owner's manual: Cord Front Drive Model 810-812 (1951) A Clymer reprint of an original instruction book for the Cord Model 810-812
Cord Car Videos
More Cord car books can be found combined with Duesenberg and Auburn car books.
Classic American Car Books By Manufacturers And Models
Classic Car Books By Country
(A work in progress)