Pontiac Fiero Car Books
Classic Vehicle Bookshelf >> Classic Car Books >> Classic American Car Books >> Pontiac Car Books >> Pontiac Fiero Car Books
Pontiac Fiero car books include Fiero performance portfolios and manuals.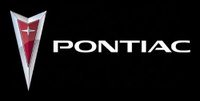 The Pontiac Fiero was a mid-engined sports car that was built by the Pontiac division of General Motors from 1984 to 1988.
J BAECHTEL
Pontiac Performance Plus Fiero by J Baechtel (1983)
R M CLARKE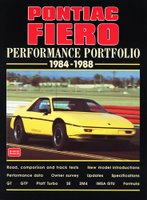 Pontiac Fiero Performance Portfolio 1984-1988 by R M Clarke (2000) is a book of contemporary road and comparison tests, new model introductions, specification and technical data, driving impressions, owner's survey, racing, history, buying second hand. Models covered include:- 2M4 SE, SE, Pfaff Turbo, GT, GT V6, GTU, Formula.
MARK COBIN
84-88 Pontiac Fiero Spotter's Guide by Mark Cobin (date unknown)
ROBERT WAGONER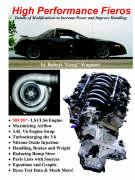 High Performance Fieros: 3.4L V6, Turbocharging, LS1 V8, Nitrous Oxide by Robert Wagoner (2006). Details of modifications to improve handling based on years of Autocross racing experience, (includes topics such as wheel alignment, eliminating bump steer, tires, solid mounts, weight, and others). Also describes in detail engine upgrades, including a 3.4L V6 swap, turbocharging, a 5.7L V8 swap, and adding nitrous oxide injection. Topics include eliminating spark knock, calculating horsepower, selecting turbocharger, CE (Compressor Efficiency), MAP sensors, fuel injectors, upgrading fuel system, custom headers, improving airflow, VE (Volumetric Efficiency), and many, many others. Written by an engineer. Includes detailed wiring diagrams, graphs, tables, weights, formulas, dyno test results and plenty of photographs.
GARY WITZENBURG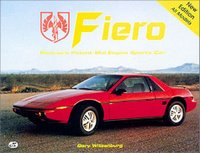 Fiero: Pontiac's Potent Mid Engine Sports Car by Gary Witzenburg (1987) chronicles the development, life and afterlife of Pontiac's sporty and innovative Fiero. From its radical chassis and body engineering, developed under engineer Hulki Aldikacti in the early 1980s, through styling and assembly processes, the Fiero blazed new trails all the way.
Pontiac Fiero Car Manuals
Check for the manual you need from many Pontiac Fiero Manuals
Books On Classic Pontiac Car Models
Classic American Car Books By Manufacturers And Models
Classic Car Books By Country
(A work in progress)