Diamond T And Dixie Flyer Car Books
Classic Vehicle Bookshelf >> Classic Car Books >> Classic American Car Books >> Diamond T And Dixie Flyer Car Books
Diamond T and Dixie Flyer car books cover the history of Diamond T trucks and includes a 1921 poster of the Dixie Flyer.
The Diamond T was an American automobile manufactured in Chicago from 1905 until 1911 by the Diamond T Motor Car Company. The company later became known for its trucks.
The Dixie Flyer was a vintage car built in Louisville, Kentucky from 1916 until 1923.
ROBERT GABRICK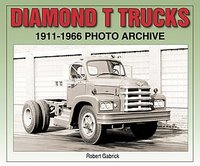 Diamond T Trucks 1911-1966 Photo Archive by Robert Gabrick (2007). The Diamond T Motor Car Company manufactured automobiles until 1911 when the first truck led to exclusive truck production and soon gained legendary status as style leaders.
Dixie Flyer Car Poster And Sales Literature
Dixie Flyer 70 1922 Poster of Dixie Flyer automobile Model HS-70 of the 1922 line, with 4-cylinder Herschell-Spillman 40 horsepower motive and 112-inch wheelbase.
Original Factory Sales Literature For 1921 Dixie Flyer Automobile 1921
Classic American Car Books By Manufacturers And Models
Classic Car Books By Country
(A work in progress)