Checker Car Books
Classic Vehicle Bookshelf >> Classic Car Books >> Classic American Car Books >> Checker Car Books
Checker car books includes books on the history of the Checker company plus factory sales literature.
Checker Motors Corporation is a Kalamazoo, Michigan based automotive subcontractor, that was once the manufacturer of the famed Checker automobile, the iconic American taxi cab.
JAMES HINCKLEY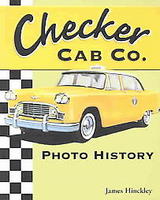 Checker Cab Co. Photo History by James Hinckley (2003) has unraveled the often conflicting stories about the Checker Cab Manufacturing Co. to present the first complete history of this fascinating company and its legendary cabs.
STANLEY YOST & KATHRYN BASSETT
Taxi! A Look At Checkers Past by Stanley Yost & Kathryn Bassett (1990)
Checker Car Brochures
Original Factory Sales Literature For 1969 Checker Diesel Automobile (1969) 'Introducing the only American-built, diesel powered automobiles, the Checker Diesel incorporating the world-wide, proven 4,236 Perkins Diesel'. Large photo on front of passenger car; three photos inside of spacious interior, together with diesel engine and power curve; five photos of Checker model range, including eight-door Aerobus Limousine and taxicab.
Checker Cabs And Car Owners Convention
Classic American Car Books By Manufacturers And Models
Classic Car Books By Country
(A work in progress)