Chrysler 300 Car Books
Classic Vehicle Bookshelf >> Classic Car Books >> Classic American Car Books >> Chrysler Car Books >> Chrysler 300 Car Books
Chrysler 300 car books cover the history of this Chrysler model plus workshop manuals.

The Chrysler 300 'letter series' were high-performance luxury cars built in very limited numbers between 1955 and 1965. The Chrysler 300 'non-letter series' was a full-size automobile produced by Chrysler from 1962 until 1971.
ROBERT ACKERSON
Chrysler 300: America's Most Powerful Car by Robert Ackerson (2004). From C-300 to 300L is the full story of Chrysler's famous 300 Letter series, which were produced between 1955 and 1965. In 1951 Chrysler produced its first ever V8 engine - the 'Hemi Head', which produced much more power in relation to its capacity than any of its competitors could manage. In 1955 the new 300 horsepower Chrysler C-300 was launched as America's Most Powerful Car.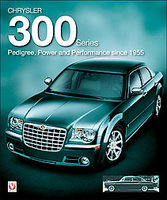 Chrysler 300 Series: Pedigree, Power And Performance Since 1955 by Robert Ackerson (2005). Three eras of the Chrysler 300 are covered: the first spans of the years 1955-1965; the second 1998-2004, when Chrysler revived the 300 name as the front wheel drive 300M; the third age began in 2004 when four all-new rear wheel drive Chrysler 300 models were introduced for the 2005 model year
T E BONSALL
Chrysler 300 And DeSoto Adventurer Source Book by T E Bonsall (1981)
R M CLARKE
Chrysler 300 1955-1970 by R M Clarke (1974). 300, B, C, D, E, F, G, H, I, J, K, L, Hurst, De Soto Adventurer, 300-440cc, history, new model reports, comparisons, road tests, styling and specifications.
MATT DELORENZO
Road & Track Special Series Guide To The Chrysler 300 by Matt DeLorenzo (2004)
JOHN GUNNELL
Chrysler 300 1955-1961 Photofacts by John Gunnell (1982)
WILLIAM McBRIDE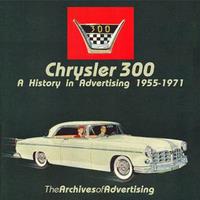 Chrysler 300: A History In Advertising 1955-70 by William McBride CD ROM (2001) covers both the letter cars and the non-letter cars through 1970. This CD-ROM contains a browsable collection of ads carefully scanned from original magazines and newspapers. The ads are searchable by year and model of product and can be viewed on any computer.
Chrysler 300 Manuals
Check for the manual you need from many Chrysler 300 Shop Manuals
Chrysler 300 Video
Books On Classic Chrysler Car Models
Classic American Car Books By Manufacturers And Models
Classic Car Books By Country
(A work in progress)