Crosley Car Books
Classic Vehicle Bookshelf >> Classic Car Books >> Classic American Car Books >> Crosley Car Books
Crosley car books covers the history and development of Crosley cars.
The Crosley was an automobile manufactured by the Crosley Corporation and later by Crosley Motors Incorporated Indiana from 1939 to 1952.
R M CLARKE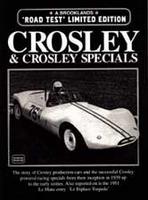 Crosley & Crosley Specials by R M Clarke (1995). The first Crosleys were introduced in 1939 to sell through the company's radio stores, but production was terminated by the war. The first post-war car was a 700cc saloon with a lightweight engine. The Hot Shot, after initial skepticism, was well received, having a rigid chassis and good suspension. The open Super-Sports had a 750cc engine, ohc and cast iron cylinder block. The 750cc, dual fuel engine was a success, catching the imagination of many special builders for racing. Unfortunately the out-dated bodies were not good enough for the public and sales fell. In July 1952 the company was sold to the General Tire & Rubber Co. This is a book of contemporary road tests, model introductions, technical and specification data, special equipment and race reports. Models covered include:- 700cc, Hot Shot, Super-Sports, Station Wagon, PBX, Le Biplace TorpTdo and Broadwell.
C E DIXSON
Crosley Legacy: Past, Present, Future by C E Dixon (date unknown)
DAVID STERN, MICHAEL BANKS & RUSTY McCLURE
Crosley: Two Brothers And A Business Empire That Transformed The Nation by David Stern, Michael Banks & Rusty McClure (2006). Powel and Lewis Crosley were opposites in many ways but shared drive, talent, and an unerring knack for knowing what Americans wanted. Born in the late 1800s into a humble world of dirt roads and telegraphs, their inventions and achievements were at the vanguard in a breadth of endeavors, from the world's largest manufacturer of radios, to the world's most powerful radio station, to the World Series, to the World's Fair and to helping America win World War II.
Crosley Car Advertisement
Powel Crosley & His Midget Car That Is Low-Priced, Lightweight & Unadorned 1947
Crosley Car Manuals
The New Thompson Repair And Tune-Up Manual: Passenger Car Series Kaiser - Frazer - Crosley 1939-1948 1948
Crosley: A Fine Car. Model CC47 Owner's Instruction Manual Date unknown
Crosley Car Videos
1951 Crosley Super Convertible Car
Classic American Car Books By Manufacturers And Models
Classic Car Books By Country
(A work in progress)